Adirondack chairs combine high-quality craftsmanship, sleek style, and ergonomic comfort. First designed by Thomas Lee whilst vacationing in the Adirondack Mountains, the Adirondack chair typically consists of 11 planks of wood and has a distinctive flat sloping back and contoured seat.
Stylish and practical, they make the perfect choice for kicking back with a coffee on the porch or grouping around an outdoor fire pit for some stargazing, so it's no wonder that when it comes to sourcing the best outdoor furniture for our yards, they're one of the most sought after items on many of our wishlists.
Originally crafted from wood, these days there are all sorts of variations on the market, from colorful and low maintenance plastic options to weather-resistant and lightweight aluminum or timeless and durable hardwood Adirondack chairs.
Ever conscious of budget, the Real Homes team has searched high and low to uncover some of the top affordable Adirondack chairs on the market, so read on to find your new favorite perch.
---
10 Adirondack chairs for chilling in your backyard
Why you can trust Real Homes Our expert reviewers spend hours testing and comparing products and services so you can choose the best for you. Find out more about how we test.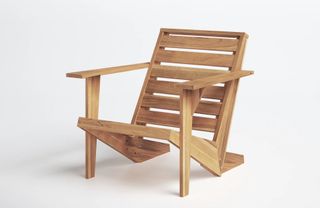 1. Joss & Main DeKalb Solid Wood Adirondack Chair
Dimensions: H28 x W29.5 x D32'' | Colors available: 4
A modern take on the classic design, this low and boxy Adirondack chair is made from solid acacia wood. The contemporary design offers good weather resistance thanks to the naturally occurring oils present in the timber, although a yearly top-up with a wood preservative will help to keep it looking its best. We love the natural look, but it also comes in four different wood-stained color options to fit perfectly with your backyard style.
---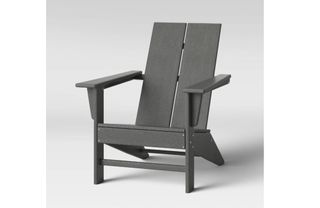 2. Project 62™ Moore Polywood Adirondack Chair
Dimensions: H30 x W30 x D32"| Colors available: 7
A low-maintenance option that doesn't require as much upkeep as wood, this slick and stylish Adirondack chair from Project 62 is crafted from POLYWOOD lumber (high-density polyethylene) that won't fade, splinter, or rot. The modern design features a reclining, wide slat seat, and backrest you'll love to sink into after a long day, plus, there are seven great colors on offer. Group a number of these chairs and add a fire pit for a refined backyard retreat.
---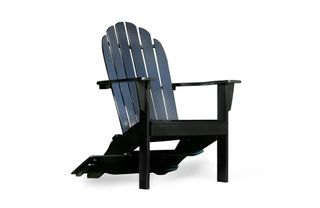 3. Cambridge Casual Alston Adirondack Chair with Tray Table
Dimensions: H40 x W40 x D26.5" | Colors available: 6
In a classic Adirondack style, this chair from Cambridge Casual features a slatted frame, a slightly reclined seat to relax in, comfy wide armrests and a matching tray that fits between the armrests to set a drink on. Made from mahogany wood, it's weather-resistant with an added protective polyurethane coating, plus, it comes in six colorways so there's an option right for your backyard, and it's a great price.
---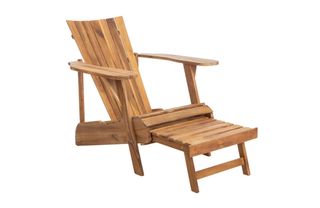 4. Raymour & Flanigan Allaire Outdoor Adirondack Chair with Retractable Footrest
Dimensions: H32.5 x W52 x D29.5 in | Colors available: 2
Made from natural or gray-washed acacia wood, this laidback lounger is perfect for adding some coastal vibes to your backyard setup. It comes with a comfortable rounded seat base that hides a useful retracting ottoman that makes it the perfect spot for lounging on while sunbathing or relaxing on whilst kicking back with friends.
---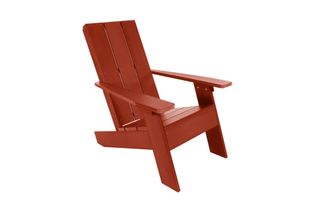 5. Byrnes Plastic Resin Adirondack
Dimensions: H38 x W29 x D38" | Colors available: 5
Crafted in the USA from 100% recycled resin plastics, this updated take on the Adirondack chair features a streamlined look and angular arms with wide armrests that are perfect for chilling with a good book. The plastic construction makes the chair resilient to water, mildew, and rust, and cleaning couldn't be simpler, just hose down for a spring refresh. Buy the single chair, or opt for a set of two to take advantage of the set discount.
---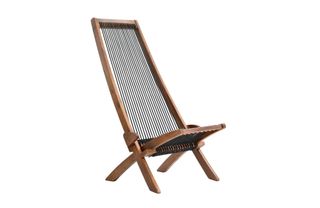 6. Corrigan Studio Bronsyn Classic Outdoor Solid Wood Folding Adirondack Chair
Dimensions: H37 x W19 x D20" | Colors available: 1
Made from an acacia wood frame, this slick-looking lounger will look just the part in any stylish patio space or backyard. Folding flat for easy storage, the contemporary take on an Adirondack chair has a water-resistant wood seal and it's comfortable to sit on; warm in the winter, cool in the summer. Just bear in mind that the streamlined design means a fairly narrow seat for perching.
---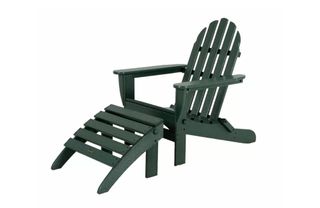 7. Joss & Main Classic Adirondack Plastic/Resin Folding Chair with Ottoman
Dimensions: H36 x W29 x D35" | Colors available: 13
Despite the classic design, this two-piece Adirondack set is made from modern weather-resistant polywood, with the color-injected plastic available in a wide range of vibrant hues, from sunshine yellow to bright red and aqua, or more muted dark greens, blues, and grays. The traditional-style Adirondack chair is complemented by a coordinating ottoman so you can sit back, put your feet and relax, and even better, both are designed to fold, making for space-saving storage when they're not in use.
---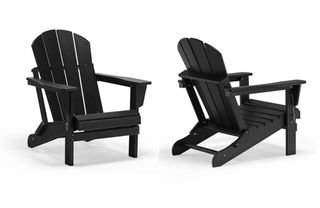 8. Rosecliffe Heights Plastic Folding Adirondack Chairs (Set of 2)
Dimensions: H34.5 x W29.5 x D34" | Colors available: 12
If you prefer a more chunky build, but still want to benefit from the convenience of chairs that will fold flat for easy transportation or space-saving storage during the winter months, then this set of folding Adirondack chairs could be for you. Made from low-maintenance HDPE that resists splits, cracks, rot, and peeling, the plastic polymer seating is also UV-resistant, water-resistant, and resistant to fading; good news because there are twelve vibrant colors to choose from.
---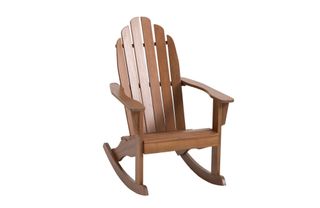 9. World Market Natural Wood Adirondack Rocking Chair
Dimensions: H41 x W27 x D36.5" | Colors available: 1
Who doesn't love an outdoor rocking chair for shooting the breeze on the porch in an evening? In a classic, traditional style, this timeless Adirondack chair is crafted from solid acacia wood and coated in a UV-protecting finish which helps to avoid scratches, chips and fading, whilst its rocker feet will soothe you into a state of deep relaxation... hopefully.
---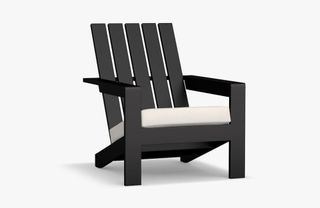 10. Pottery Barn Malibu Metal Adirondack Lounge Chair
Dimensions: H37 x W31 x D37 in | Colors available: 1
Admittedly this Adirondack chair isn't the most affordable on our list, but made from rust-resistant aluminum it's a hardwearing and maintenance-free option that's designed to withstand the test of time. So if you can stretch to the higher initial investment, it's a purchase that should pay off over time in terms of longevity. Plus, the aluminum build is lightweight to move, and is lead, latex, BPA and pthalate-free, and looks super stylish to boot. There's also a wide range of matching furniture to complete your backyard look.
---
How to style Adirondack chairs
'Adirondack chairs are classic seating options for gathering around a fire and roasting marshmallows or sipping a drink. These chairs tend to work best around a lower centerpiece like a fire pit, a low coffee table or simply arranged in a circle as an outdoor chat set. Add a few side tables and you're set for a great night of conversation or star gazing,' explains Amber Dunford, Style Director at Overstock.com.
'Since these chairs tend to sit lower than traditional seating, and have a slight angle on the back, they inherently elicit a sense of relaxation as you sit in them. The wider sides also give you a perfect spot to rest your arms on, so I would opt for this style if you are aiming for a relaxed energy in your outdoor area.'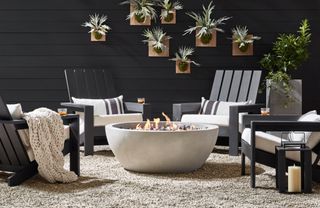 What are the best Adirondack chairs made from
Originally crafted from wood, Adirondack chairs are now built from a wide range of materials, most notably HDPE or plastic polymer, traditional timber, or metal framed options. But what are the pros and cons of each option, and how do you go about choosing the right material for your needs? Get the lowdown below.
Wooden Adirondack chairs
The traditional choice, wood can be a great option for outdoor furniture, and, as long as you look for FSC-certification before you buy and ideally source from a local manufacturer, it can also be one of the most sustainable options. However, there are many different types of timber to choose from, all with slightly different plus and minus points.
Teak is the hardwood most prized for its strength and durability outdoors. As well as offering an extremely dense grain that prevents moisture from penetrating, teak retains high levels of natural oils in its timber once cut, which further helps to prevent the wood from weathering. You can top up the wood with teak oil to offer even more weather resistance, although many allow the timber to weather over time to its signature soft silvery patina.
However, this dense grain is down to teak's extremely slow-growing habit, and that slow growth, plus the difficulty of working with such a tough timber makes it one of the most expensive wooden options.
Cheaper and faster-growing alternatives that are now becoming very popular outdoor furniture choices are the hardwoods acacia and eucalyptus. These woods are slightly less dense than teak but they are far-quicker growing, allowing them to be grown and managed to yield greater quantities of wood more sustainably – although again, it's important to look for FSC accreditation. A little low-maintenance upkeep with a coat of wood preservative each year should ensure these hardwoods retain plenty of weather resistance.
HDPE or POLYWOOD Adirondack chairs
The most affordable Adirondack chairs are often made from plastic or resin due to the materials' affordability. Plastic also offers the ability to create furniture in a wide range of contemporary colors and offers a low-maintenance outdoor solution, with plastic resin not needing preservatives or painting like a wooden alternative, and offering a solution that doesn't crack or splinter over time.
However basic models can be prone to discoloration when left out in the sun (look for UV-resistant options to counteract this) and, in our opinion, don't have as nice a feel to the touch as an organic material. There are also environmental implications, with plastic having a high environmental impact on its production, and being very difficult to dispose of safely at the end of a product's lifespan.
Products like POLYWOOD® work to address this, using recycled post-consumer waste like recycled milk jugs and detergent bottles to form the HDPE used in its manufacture.
Metal Adirondack chairs
Less commonly, Adirondack chairs may be made of metal, in particular aluminum which offers a super strong yet still relatively lightweight and highly weather-resistant alternative to wood or HDPE.
Unlike corrosive steel which relies on the powder-coating for protection, aluminum forms its own protective barrier, stopping moisture from penetrating its surface and making it a highly rust-resistant and weather-resistant metal.
For this reason, aluminum patio furniture can be left outside all year round making it a super low maintenance option. It is however expensive. So although it can be well worth the investment for longevity, you're likely to have to pay a premium to score an aluminum Adirondack chair.