If you like Amazon, and your sleep, then why not combine the two with an Amazon mattress? We know, right. It's a winning combination. Especially with the holidays so hibernating is looking even more appealing after the year we've all had, not to mention the colder weather getting a firmer grip on the nation.
We've seen several mattresses on Amazon listed on their store which tick all the right boxes for us, so long as you have an account with them. Layered design: check; promises to deliver a more comfortable night's sleep: check; available in different sizes: check. It's all going on. And none of them will break the bank either with the most expensive option on our list being around $600. As with anything you buy on Amazon, too, you can expect to receive first-class customer service and a quick delivery - although this would be even speedier if you were an Amazon Prime Member, of course.
Keep scrolling to see our top buys which take into account customer reviews for first hand experience. Prefer to see more mattress choice? No worries: head to our best mattress buyer's guide for options from the likes of Emma mattress, Casper mattress and Nectar mattress.
Amazon mattress: our top picks
Why you can trust Real Homes Our expert reviewers spend hours testing and comparing products and services so you can choose the best for you. Find out more about how we test.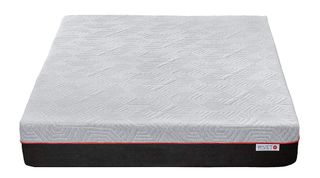 If you're looking for a mattress made by Amazon, sold by Amazon then this is it. The Rivet Mattress is one of Amazon's own brands which promises for you to fall asleep faster, stay asleep longer, and recover more deeply - sounds dreamy to us!
Three layers of foam
This 10in mattress has been made using three layer of different foam to create a responsive, structured support. We're talking LURAcor alt latex foam to align your spine; cushioning memory foam for weight distributed and long-lasting base foam for structural support.
The Celliant cover wraps all three of these together to help regulate your temperature and improve recovery as you sleep.
What do you get for your money?
A mattress which has been made in the USA, 100 night risk-free trial and a 10 year's warranty.
Reviewers opinions
Arriving in a box, a couple of reviewers have mentioned that it is quite bulky so you may need a couple of people to help lift the mattress into position for you. It's received very high marks for how comfortable it is with deep sleep experiences being shared and he noticeable lack of motion transfer (which is a good thing).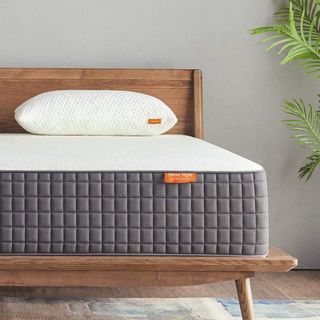 The Breeze mattress by Sweetnight is a good choice for all you hot sleepers out there which will make sleeping during the summer months a whole lot cooler.
3 layers of zone support
Inside this mattress you'll find 3 inches of cooling gel-infused memory foam which will absorb heat and dissipates it through the air-flow comfort foam layer beneath it. The 5.5 inches of high density support foam ensures edge-to-edge support and resistance to rolling and sagging, so you can sit or sleep in any position as you start to dose off.
What do you get for your money?
Priced at round $600 for a Queen, this mattress is one of the most expensive in our guide. However, it does come with a 10 year manufacturer warranty against defects, a US based customer service team and a trial which although doesn't disclose a time frame does say that you can return or exchange the mattress if not completely satisfied.
Reviewers opinions
With a total of five stars available, the Sweetnight Breeze has scored 4.6. There are some rave reviews from customers who have struggled in the past with a bad back but on this mattress, the pain has now gone. The 12 inches provides plenty of support and even tough it says it can take up to 72 hours to recover from being wrapped up in packaging, some have said it takes less time.
On the other hand, the negatives are the lingering odor and the impressions which are left after a few months of use.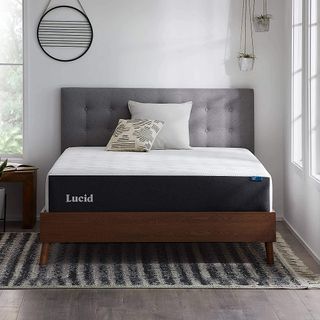 If you crave a plush (soft) and supportive sleep experience then this mattress has your name on it, not Lucid!
Four layers
There's 12 layers of loveliness with this mattress which promises to fulfil all your sleep experience dream. To start at the top there's a latex-like foam which offers a soft yet supportive feel which will help to ease pressure points, without leaving lasting impressions. Two-inches of ventilated gel memory foam layer will help to regulate body temperature and increase circulation, with an additional one inch of foam to help with motion transfer.
Now onto that base foam which sets this Lucid mattress apart from the rest... there's 12 inches of dense bamboo charcoal infused support foam which provides extra stability and full body support. It also helps keep your mattress smelling fresh thanks to its natural hypoallergenic properties, which is nice to know.
What do you get for your money?
You'll get a 10 year manufactures warranty when you opt for this mattress. There's no mention of a trial though, so try test in store if you can unless you already know this is the mattress for you.
Reviewers opinions
All in all, it's received 4.5 out of 5 stars from reviewers on Amazon. Customers all sing it's praises for the price, support and level of motion transfer. One reviewer says: "every morning I wake up feeling great.." with others raving about how much better they are now sleeping.
The negatives are that it is too firm for some and that it sags after a few weeks of use, although there are not many of these comments.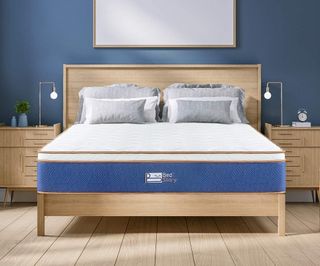 A hybrid mattress generally offers a decent level of support for side, front and back sleepers and this one from Amazon is no exception.
Three layers of foam + springs
To start at the top there's 0.5in of comfort memory foam which offers relief from any back pain. Delving on down you're then greeted by 2in of latex foam which is natural and breathable. And then for longevity support there's 7in of independently wrapped coiled springs, which also help to reduce the sensation of movement.
It's suitable for all ages and all bases and frames.
What do you get for your money?
With every BedStory Hybrid Latex mattress you will get 10 years warranty and lifetime after-sale service and 30 days trial.
Reviewers opinions
Overall it's scored 4.2 out of 5 reviews on Amazon with rave reviews being shared about how it helps to relieve any aches and pains during sleeping. Those who have awarded the mattress four stars were very complimentary.
On the flip side it seems like the mattress takes a while longer than the disclosed 72 hours to fully expand for some. Stains have also been present upon removing the mattress from the box, but this doesn't seem like a common occurrence. You will need some help to lift it, too, because it's heavy.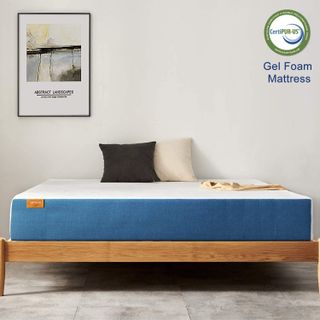 If you're after a foam mattress whilst being on a tight budget then we choose this mattress from JINGXUN.
Three layers
Aimed at improving support and heat dissipation, this 11 inch mattress features memory foam, comfortable layer, plus 5 inches of high density base support foam for additional comfort.
There's also a soft hypoallergenic cover that is washable and resistant to dust mites, too.
What do you get for your money?
This mattress comes with a 10 years warranty and if you are dissatisfied for any reason you can contact the customer support team at any time.
Reviewers opinions
Another 4.6 out of 5, this mattress gets top marks for its affordability and comfort. Several reviewers have commented that it is like 'sleeping on a cloud' and is one which helps you keep cool, too.
Those sceptical of it say that it is not firm enough for them, with a handful of others reporting sinking in the middle.
How we chose the top Amazon mattresses
It was no easy task, believe me. There's just so many good options out there which all seem to be saying the same thing about how they can improve your sleep and keep you cool whilst offering you a competitive trial package. What did we do? Sifted through 341 results and narrowed down the list wearing our mattress expert hats.
We've taken into account the brand reputation, materials used, the price and of course those all important customer reviews. You'll often find that the majority of positive and negative comments say the same thing, especially with foam mattresses. And after a short time research, all mattresses look the same but with our help, we're confident you've got the pick of the bunch.
It's worth noting that the practice of looking after your mattress is applicable across all brands, not just Amazon. Always use the best mattress protector you can. A lot of the mattresses have removable covers for washing but a mattress protector will help to protect it from any spills, stains and (grose) dust mites, plus help to pad out any uneven areas for a short while. They'll go a long way in helping you to how to sleep better (even better than before), too, as many offer cooling effects.
You've reached the end of the page. Jump back to the top ^