Nothing is more frustrating than waiting at home all day for a package to arrive, only to miss it when it does. The best video doorbells can fix this problem, allowing you to see what's happening at your door, get notifications sent to your phone, and even speak to people without needing to physically answer the door.
In short, it makes life a lot easier and more convenient and it can also serve as a home security system keeping you and your family safer.
If you already have a doorbell, many wired models can connect to existing wiring, while others may require you to get expert installation.
Wireless doorbells, however, are super-easy to set up and use, only requiring a stable Wi-Fi connection and the means to mount it onto the wall with screws or very strong, weather-proof mounting tape. These could also be a great option if you rent or plan to move soon.
Whether wired or wireless, smart and video doorbells fit perfectly into a wider security set-up. If you're interested in investing in better safety, look at our roundup of the best security cameras.
Scroll down to see how we rated some of the top video doorbells available to buy right now, from Ring to Nest and beyond.
The best smart doorbells 2022
Why you can trust Real Homes Our expert reviewers spend hours testing and comparing products and services so you can choose the best for you. Find out more about how we test.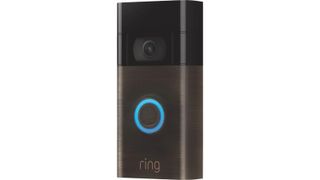 Designed with renters - and homeowners - in mind, there's no need to worry about wires or complex installation with the original Ring Video Doorbell (Gen 2). It still holds its own against the Ring Video Doorbell 3 Plus and others, with plenty of handy features offering more than required for the average user.
How it works
Equipped with a full HD 1080p camera and impressively wide field of view, expect high-quality video footage delivered directly to your smartphone. So, whether you're at your desk, at the beach, or simply lounging upstairs in bed, you're guaranteed a clear perspective on exactly who's at the door.
Like other models, you also get two-way audio, making it a great video intercom system. It acts as a regular doorbell, too, as long as you have a Ring Chime, so you don't have to rely on your phone.
How it looks
Perfect for those who rent or anticipate themselves moving in the not-too-distant future, this model does not require hard-wiring. Rather, it's powered by Lithium-powered batteries that can be removed and recharged with ease. Pick up two packs, and you'll never have to go without a charge.
And if you don't like the sound of having to recharge batteries at all, it's also worth noting that it can also be wired in.
Overall, the Ring Video Doorbell design is slightly less sleek and slimline than some other options available. But, really, this comes down to personal preference.
Real Homes rating 4.5 out of 5 stars | read our full review of the Ring Video Doorbell (2nd Gen)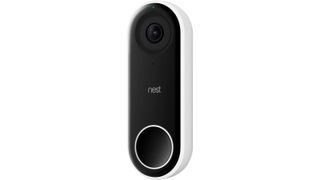 Our top pick for those seeking a hard-wired option, the Google Nest Hello is easy to use and offers everything you need in a smart doorbell. It's a great choice if you're a homeowner who doesn't plan on moving house anytime soon.
How it works
Providing an impressive 160-degree view of the area, it's easy to see anyone who's directly outside and around your property without even having to open your front door. Instead, just talk with visitors to your home with handy two-way audio.
This is perfect if you're coordinating deliveries from your postman, even if you're at work, on holiday, or pretty much anywhere else. If you've got a visitor coming round and you're still at the supermarket, you can let them know!
And connecting your video doorbell to the smartphone app is very easy, so tech-novices needn't be put off by a complex setup process.
How it looks
Boasting a slim and neat design, this smart doorbell fits right onto your doorframe, ensuring it can do its job without ruining the aesthetics of your porch area.
Unlike some video doorbells such as many of Ring, Google's Nest Hello needs to be wired in. This could be inconvenient for those who rent or just aren't confident with DIY, but in the long-term, it can add convenience by the fact that it never needs recharging.
Anything else?
Add-ons such as facial recognition aren't available without a subscription, but Nest Hello is an excellent product with or without these features.
Real Homes rating 4.5 out of 5 stars | read our full review of the Nest Hello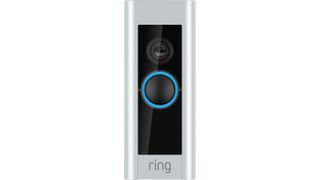 If you want everything that Ring has to offer from its doorbell range, then you might need to fork out a little extra on the Ring Video Doorbell Pro. Note, the Pro 2 and Elite models are also available but cost more. For the money, we rate the original pro highly.
How it works
The Ring Video Doorbell Pro offers the same 2-way audio, Alexa compatibility, and live viewing capabilities as its peers, but with a few additional features to make it a worthwhile upgrade. Customizable motion zones are a big one, and the fact that the doorbell is hardwired means it uses video sensoring tech rather than the low-energy PIR sensors on battery-powered versions.
On this, the Ring Pro can be powered using a plug-in adapter, which is slightly different than usual but means that you won't have any inconvenient power outages right when you need your doorbell to be working.
How it looks
A total of four color options come with the Ring Video Doorbell Pro, so you can choose between Satin Nickel, Cream, Venetian, or Black. Overall, the Pro range has a slimmer, less bulky design compared to its cheaper counterparts.
Anything else?
You will get a 30 day free trial for Ring Protect when you buy the doorbell but will need to start paying after the first month.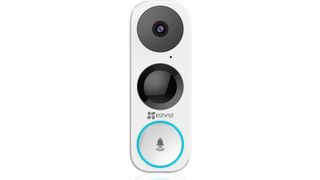 A great budget option from Ezviz, the DB1 is the veteran in its range of video doorbells. Still, it holds its place on this list due to its wide range of features with an affordable price tag.
How it works
The Ezviz DB1 requires existing doorbell wiring, so that may rule it out for some people, but if not then you know you won't need to worry about regular charging. There are also three hours of cloud storage included, so you can view and download anything you want to check in the last 180 minutes. Super-handy if there has been any suspicious activity outside.
Night vision works up to 5 meters, which should be enough to see the immediate area in front of your home, and the camera offers 2K resolution and a 180-degree vertical field of view for a better view of the doorstep.
How it looks
Ezviz's doorbells have a nice, clean look, and also benefit from a changeable front place in white, black, or copper. That means you can change up its appearance if you get bored, or if it doesn't quite fit in with your house's style.
Anything else?
The DB1 supports microSD cards up to 128GB, should you want to store footage somewhere other than the cloud.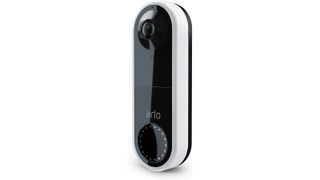 Most of the best video doorbells can double as security cameras, but the Arlo Essential Wireless Video Doorbell goes a few steps further.
How it works
In addition to its 1080p HD video, motion detection, and night vision, the Arlo Essential has a built-in siren that can deter unwanted visitors and alert you to anything untoward. It's also completely wireless and simple to install.
The 1080p video capture gives you a wider, square 180-degree view of what's going on outside, which will, among other things, allow you to see the full picture. This includes the package that your delivery person may have left on the doorstep.
Arlo claims it's the only video doorbell with a built-in siren alarm, and it's definitely the only one on our list. As a result, it's a unique selling point, boosting its credentials as a security camera as well as a doorbell.
How it looks
Minute and somewhat inconspicuous, the Arlo Essential is light and small enough to be attached to the front of your home without ruining its appearance. Unfortunately, this also means that, while those approaching your front door with a package (or visiting friends and family) will see it just fine, potentially intruders may overlook it.
Anything else?
The Arlo Essential calls your phone when someone is at the door, rather than sending a push notification that could be missed.
How to choose the best smart doorbell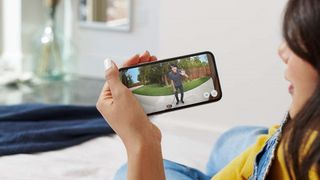 What features does a smart doorbell need to have?
Each of our best video doorbells features two-way communication, allowing you to both hear and speak to the person at your door, and night vision, which both come in very handy. Two-way communication is also important if you want to talk to the person at your door through the phone, whether you're away from home when someone comes around or not able to answer the door for some reason.
Does a smart doorbell need to be wired in?
Some smart video doorbells require wired installation, while others are battery-run. Consider whether you have the time and money to get someone to wire-in your smart doorbell, or you'd rather get one you can fit yourself. Wired smart doorbells will be more reliable, as wireless options need to be recharged often, but renters or those looking to move soon might do better with something less permanent.
What about camera quality?
The smart doorbells on our list are mostly either 720p or 1080p, the latter being the better. Image quality matters if you're using your smart doorbell as a security device, as it captures more detail that you can refer back to later.