Whenever I'm looking for the latest hair trends and tips, one of the first places I turn to for guidance is Jen Atkin's Instagram page. Not only is Atkin one of Hollywood's most sought after hairstylists (she's the brains behind all of Chrissy Teigen's hairdos), but I'm a major fan of her haircare line Ouai; it's ideal for achieving, "I woke-up-like-this, model-off-duty hair."
More or less, she's my authoritative voice for all things hair; so when I spotted the Dyson Supersonic hairdryer repeatedly showing up in her stories and on her page, I knew it was a blow dryer worth investigating.
According to the brand, the Dyson Supersonic does it all, and it one of the best hairdryers on the market. It will simultaneously dry and style your hair, cut your time in half, and reduce the amount of heat used. The only catch?
This futuristic machine costs a pretty penny and will set you back $399. If you're anything like me, you'll want to make sure it's worth every single cent before investing.
I went ahead and tested the Dyson Supersonic hair dryer first-hand, and my verdict? It's so revolutionary that it completely changed (for the better!) the way I blow dry my hair.
Oh, and if you're in the market for one of the best curling irons? Check out my review on the Dyson Airwrap that will finish off your hairstyle to perfection!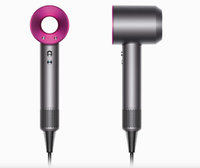 Dyson Supersonic hairdryer| $399 at Dyson
Designed to be the fastest drying blow dryer on the block, the Dyson Supersonic offers a quick and convenient experience, engineered for all hair types, and features no extreme heat.
Dyson Supersonic: specifications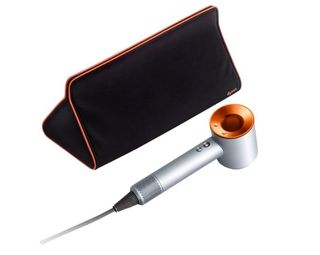 Cool Shot Button: Yes
Brand: Dyson
Model Number: 361090-01
Color: Multiple options available
Color Category: Silver
Auto Shut-Off: Yes
ALCI Safety Plug: Yes
Cord Length: 108 inches
Wattage: 160 watts
Dyson Supersonic: features and functions
One of the first things you'll notice about the Dyson Supersonic — aside from the design — is the color variations. Following suit on the Dyson Airwrap, the Supersonic offers a 'limited-edition' case in a Red/Nickle hue.
Now, if that isn't your cup of tea, you're in luck. This hairdryer is also available in Iron/Fuchsia, Black/Nickle, and White/Silver. The one thing to keep in mind about the colors and variations is that they're contingent on the retailer. Different retailers may offer different selections, so do some research ahead of time if you're partial to one color over the other.
Nonetheless, regardless of what shade you select, every Supersonic hair dryer features the same non-slip mat, nozzle attachments (more on that later), and storage hanger.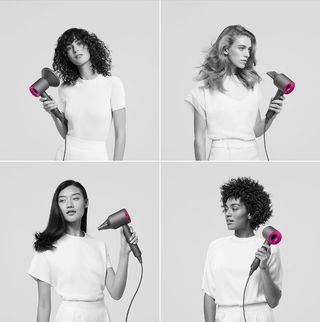 Digital Display: Yes
Magnetic Attachments: Yes
Removable Air Filter: Yes
Removable End Cap: No
Manufacturer's Warranty - Parts: 2 Years
Manufacturer's Warranty - Labor: 2 Years
Now, remember when I mentioned the Dyson Supersonic does it all? I wasn't kidding. Engineered to protect hair from extreme heat damage and features the fastest drying and controlled styling on the market. According to the brand, this hairdryer will increase smoothness by 75 percent, increase shine up to 132 percent, and decrease frizz and flyaways by up to 61 percent.
Powerful and fast
The small, powerful Dyson digital motor V9 is, on average, six times faster than other hair dryer motors, and combined with Air Multiplier technology, produces a high-pressure, high-velocity jet of controlled air for fast drying and precision styling.
Intelligent
Unlike other blow dryers on the market, the Dyson Supersonic measures air temperature over 40 times a second and regulates the heat, preventing extreme heat damage.
Healthy Hair
The Dyson Supersonic hair dryer's intelligent heat controls prevent extreme temperatures, protecting against overheating. As a result, hair with less damage will reflect more light in single directions.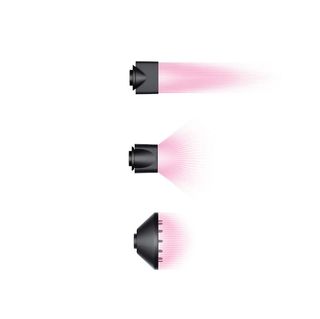 Included attachments:
Smoothing nozzle: Create an amplified smooth look, with volume at the roots and a bend at the ends
Styling concentrator: Create bends or go super-sleek; it has the control and ability to do both
Diffuser: Whether you're looking to define curls, add volume, or straightener your hair to create movement, the diffuser can (and will) do it all
Gentle air attachment (available for additional purchase): Add volume at the roots, or use the diffused airflow to create texture through the lengths.
Wide-tooth comb attachment (available for additional purchase): Lengthen hair completely, or tease out curls just a little bit
Why I'm obsessed with the Dyson Supersonic hairdryer:
Easy to use
When it comes to hairdryers, I'm partial to a machine that not only provides salon-quality results from the comfort of my own home, but I also need a device that's easy to use when looking to achieve said hairstyles. When it comes to settings, I prefer quality over quantity.
At first glance, you'll notice that the Supersonic highlights three buttons on the handle. The first is a power on and off switch, and you flip it up to turn it on and flip it down to turn it off (pretty cut and dry).
Next, there's the 'Airflow Control' that includes three precise settings, negative ions (to help reduce static), and LEDs. Users can click the button more than once to ramp up the speed (or airflow) or continue clicking the button to turn it down (or off).
Lastly, there's the 'Cold Shot.' Press and hold to deactivate heat and set your style.
Magnet attachments and versatility
The one aspect that drew me to the Supersonic in the first place was the magnetic attachments. I was in awe watching Jen Atkin switch nozzles on and off the machine, and in doing so, creating different looks on the fly; truthfully, I didn't know how she made it look so easy — until I tried it out first-hand.
I love how the base is magnetic, and I could easily add (and adjust) the nozzle to fit my liking; I can use the smoothing nozzle to remove excess water from my hair and create a smooth base for my hairstyle.
Finally, I could switch to the styling concentrator. In a matter of minutes, I achieved salon-quality results, with a few flicks of my wrist. It's a miracle-worker.
Fast-acting
My hair is not only unruly but thick and curly, and every Sunday (at least pre-COVID), I'd spend hours blow-drying my hair for the week. It wasn't that I liked going a week without washing my hair and relying solely on dry shampoo; it was all I had time for due to my hectic schedule and the extensive time it took to style my hair. However, since this blowdryer came into my life? It's not only cut my drying time in half, but it eliminated the need to style it after.
I love how this dryer delivers fast drying and styling but leaves my hair feeling silky-smooth, too.
Lightweight design
Now, the most distinct feature of this hairdryer is how lightweight the machine is. Dyson has turned convention on its head and put the motor in the handle, completely rebalancing the dryer's weight and shape, which for me is a complete gamechanger.
As someone who has Lupus, I have weak joints, and my hands are easily cramp up. The last thing I want (or need) is a heavy blowdryer that leaves my hands uncomfortable while I dry my hair. Here, this was anything but the case.
Due to the short amount of time it took to style and dry my hair, I've yet to experience any discomfort or pain. Oh, and even if it did take longer than the 10-ish) minutes it takes me to blow dry and style my hair with this machine, I doubt I'd ever feel it; this blowdryer is light as a feather!
Additional remarks
Aside from the additional attachments and lightweight design, the powerful motor is tuned to produce one inaudible frequency, which means what? It's not only easy-to-use, but it's quiet when used. Oh, and if you still need more?
There is also a filter-cleaning brush. This aspect is essential for anyone looking to protect their purchase (which we all are!) and ensure this machine is around for the long-term.
Dyson Supersonic: The verdict
If you couldn't already tell, I'm obsessed with the Dyson Supersonic. From the fast-drying aspect to the versatile attachments, it's completely revolutionized the way I go about styling my hair.
This machine has made my experience faster, more precise, and all-around more enjoyable since the first time I picked it up, and I can't ever see myself going back to the blowdryer I used before.
Sure, sure, the $399 price-point is a bit steep, but when you factor in how much healthier your hair will be after using it? It's priceless — or at least, that's what my hairdresser will say. I found myself no longer need to spend money (and time) on hair masks or conditioning treatments to reverse heat damage; this blowdryer not only reduces the risk but leaves your hair in better conditioner than you had.
Plus, if you're short on space as I am? The Supersonic was small and compact, and easily stored underneath my sink. I loved how it worked wonders on my hair and did so without taking up too much space (or time!).
Truthfully, I could write a novel over how much I love the Dyson Supersonic but in the sake of time? I highly recommend running (not walking) to your nearest computer and adding it to your shopping carts to see for yourself.
Dyson Supersonic: Where to buy
Still, want more? Check out additional Dyson tools below: