Are you looking for the best hair straightener on the market? Chances are, by now, you've tested out your fair share of contenders, and if you're reading our article right now, we're guessing most of them fell short.
Inadequate hair straighteners are more common than you think, and in the event, you are searching for a straightener that can withstand the test of time and give you flawless, cord-free styling, then we recommend turning your attention to this perfect one.
Enter: the Dyson corrale hair straightener (opens in new tab).
The Dyson Corrale hair straightener is one of the most innovative options on the market. Right now, it is the only hair straightener that features flexing plates, designed to shape around your hair, gathering it neatly together on each pass.
Which means what in basic terms? Regardless if you're dealing with frizzy, curly, unruly, or straight hair — this straightener is built for all hair types — (unlike others), will work with your hair and not against it.
Instead, it will bend or adapt to reach all of those tricky areas you've previously missed, all while reducing the amount of heat used in the meantime.
Oh, and if you're reading this and thinking this hair straightener sounds a bit "too good to be true," we understand — which is why we went ahead and tested it out first-hand.
Wondering whether or not the Dyson Corrale hair straightener lived up to all my hair expectations? Not only did it, but it obtained every last one of my hair goals; continue reading to see how and why.
Want more Dyson? Check out our review for the Dyson Airwrap review.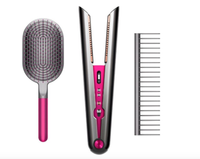 (opens in new tab)
Dyson Corrale Limited-Edition Special Gift Hair Straightener (opens in new tab) for $499, at Bed Bath & Beyond
When purchasing this Dyson Corrale hair straightener, (opens in new tab)you're not just investing in any old straighter, you're investing in a limited-edition gift set. Here, shoppers will receive the 5-star worthy Dyson straighter that will bend and adapt to work with your hair (and not against it), in addition to a paddle brush and detangling brush.
Dyson Corrale hair straightener: Specifications
Product Name: Dyson Corrale straightener Special Gift Edition
Brand: Dyson
Model Number: 371572-01
Color: Black Nickel / Fuchsia
Height: 1.8 in
Length: 11.5 in
Width: 1.6 in
Wattage: 200 W
Universal Voltage: 10.8V-16.8V
Weight: 1.23 lb
(Removable) cord length: 10.9 ft
Dyson Corrale hair straightener: features and functions
As you may have noticed, the Dyson Corrale isn't a new release, although this limited-edition Fushia/black rendition is the highlight of 2020. Here, this all-inclusive version provides users with a paddle brush, detangling brush, charging dock, magnetic 360-cable, and heat-resistant traveling pouch; aka everything, you will need to take the most awarded hair straightener of 2020 on the road.
Indicator Light: Yes
Auto shut-off: Yes
All hair types: Yes
3 heat settings: 330ᵒF, 365ᵒF, 410ᵒF
Charge time (90%): 40 min
Charge time (to full): 70 min
Manufacturer's Warranty - Parts: 2 Years
Manufacturer's Warranty - Labor: 2 Years
(opens in new tab)
Remember how we mentioned this hair straightener offers flexible plates for half the heat damage? We weren't kidding. When in use, the flexible plates enable shine, straight results with less heat, up to 50 percent less breakage, less frizz, and even fewer flyaways.
Powered by a four-lithium-ion battery and intelligent heat control sensor system, it ensures constant power, so the heat never exceeds the intended temperature selection, while also delivering the thermal performance of a corded straightener, cord-free.
If that wasn't good enough as is? It keeps on getting better. This perfect piece offers peace of mind. Due to the auto shut-off and safety lock, this straightener will automatically turn off within 10-minutes of inactivity, which is a game-changer if I do say so myself.
What's included in the box:
Charging dock
Heat-resistant travel pouch
Magnetic 360˚ charging cable
Paddle Brush (Fuchsia)
Detangling comb
Styling guide: Dyson's recommended tips and tricks to achieve the perfect look:
- Use the detangling brush to detangle and section hair
- With the Dyson airwrap, stretch out coily hair before straightening
- Place each section in the center so plates can gather hair
- Experiment with section size to find what best suits your hair type
- Tip: For thick or curly hair take smaller sections
- Tip: For finer hair, take larger sections
-Glide through the hair with slow, even passes
- The plates flex for more styling control, so there's no need to apply excess pressure
- To get closer to the roots, take sections of the hair at an angle
- If your tips are thinner than your roots, style roots, and mid-lengths first
- To align shorter hairs, tilt plates slightly inwards
- To shape the ends under, rotate 45-degrees
- Reduce temperature around the delicate hairline
- For bouncy bangs: Lift then pull down and under
- Shape sides under and away from the face
- Finish off with your favorite smoothing product
Why I love this Dyson corrale hair straightener
Easy to travel with
Pre-COVID, I lived my life on-the-go. With my office being downtown and my apartment being uptown, I often lacked the opportunity to stop back home before attending work events at night.
So, if I'm looking to touch-up my hair in-between work and events? I need a suitable solution that can either come with me or stay stored in my desk drawer, which is, of course, why I love this hair tool that offers up endless versatility.
Here, I can wrap this hair tool into the heat-resistant pouch, and because it's light enough (and small enough!), it will seamlessly fit into my bag.
If I'm looking to keep this straightener on my desk for the long-term, the portable 360-charger will easily connect to my work computer, or I can opt to tag along the charging dock, too.
Versatility
More favorably than that? How endlessly versatile it is, thanks to the adjustable heat controls.
As someone who has excessively curly hair (that's unruly as ever), my hair turns like a switch! My perfect blowout will be compromised due to the tiniest drop of rain, or sweat (due to long subway rides!), which means I need a hair straightener that is powerful enough to reverse the damage. Here, this trusty tool offers up three different heat adjustments — 330°F, 365°F, and 410°F.
On the days I need a firmer hold, I can go with the highest heat setting, whereas on the days I need a quick touch-up, I can opt for the lower one and adjust this setting on a case-by-case basis.
Plus, since everything is adjustable, it's the saving grace when shared among family members, roommates, or (if you're me) co-workers in the office. No matter if you're dealing with fine, straight, curly, wavy, thick, or thin hair, this trusty tool doesn't just work but works well.
Reduces the risk of damage
Remember how I mentioned how curly and unruly my hair is? Most times, I will turn the heat up, hoping to eliminate those pesky flyaways around my hairline or to get my front angle to flip just the way I like it, one-too-many times.
Sure, I'll achieve my desired look in the short-term but fast-forward down the road to my next haircut appointment, I'm left paying for it! Due to excessive heat-damage, my ends are dead, and I'm left cutting more inches off than intended, which for someone who hates their haircut? Talk about a nightmare!
Instead, when using this hair straightener, I was also preventing any more of these instances from happening. The flexible plates work with an integrated sensor system to regulate the temperature of the plates 100 times a second, which in basic terms means what exactly?
Simple: Whatever heat setting you opted for from the start, continue to produce that same temperature throughout the entire process, so you never have to exceed it (and need something higher). Which, in turn, prevents up to 50% off heat damage than usual while also promoting the healthiest, shiniest, and straightest hair ever.
Dyson Corrale hair straightener: Our verdict
Whether you're someone looking for a travel-friendly straightener that can be taken on the road or stored in your bathroom cabinet, this Dyson Corrale hair straightener is the top-of-the-line option we can't help but believe every need.
It's suitable for all hair types, reduces the risk of heat damage (up to 50 percent!), and offers a cordless feature that isn't prominent in most hair straighteners currently on the market.
Sure, we understand that the almost $500 price tag is not the easiest pill to swallow, but when you start to factor in the two included styling brushes — a detangling brush and paddle brush — plus, all of the fantastic features this trusty tool offers compared to your current model? It's hard-pressed to think that you'll find something better than this one.
So whether you're looking to treat yourself or gift the hair lover in your life the hair straightener of their dreams, this Dyson Corrale (opens in new tab) is the must-have, everyone must-have.
Dyson Corrale Hair Straightener: Where to buy