No matter where you live, humidity can be a massive problem for both your health and the health of your home. Summers may bring sticky heat, and winters can worsen issues such as condensation and mold. This is why dehumidifiers can be a lifesaver, and choosing one can be difficult.
The best dehumidifiers offer a reasonable moisture extraction rate and a sizeable tank and operate quietly and efficiently without gobbling up too much energy. They're also practical for tasks such as drying laundry, and, ideally, they're not so big and bulky that they stick out in the home like a sore thumb.
We tested the De'Longhi DEX216F Tasciugo AriaDry Multi Dehumidifier, which looks great and promises a brilliant performance with a 16L daily removal rate and 2.1L tank capacity. Keep reading to see how it withstood the humidity levels during a sweaty British heatwave.
De'Longhi DEX216F Dehumidifier: key specs
Type: compressor
Removal rate: 16L/day
Tank capacity: 2.1L
Recommended room size: 750m²
Speeds: 1
Noise: 40dB
Power: 300W
Dimensions: H50.8 x W33.4 x D22cm
Weight: 9kg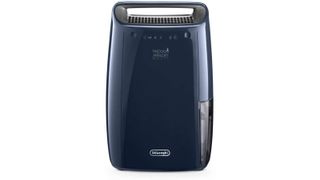 De'Longhi DEX216F Dehumidifier: Set-up
The dehumidifier passed the easy set-up test, as you can probably work it out without looking at the instructions (though we recommend you do). Simply remove the appliance from the box, plug it in and install the air filter panel (a small rectangular mesh) into the appropriate spot on the back of the device. Then, once powered on, you can choose how much moisture you want in your space.
The manual states that you should leave at least two feet in front of the dehumidifier, as well as two to four inches at the back.
You may think at first that your De'Longhi isn't working, but whether it immediately starts to work or takes a while will depend on how humid your environment is. An excellent way to test is to switch to Laundry Mode, which has the most substantial humidity extraction, and it should start whirring away.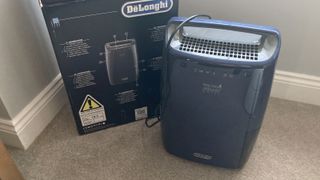 De'Longhi DEX216F Dehumidifier: performance
After testing the DEX216F overnight in the bedroom, we would say that is slightly too noisy to be used in this context unless conditions are extreme enough to warrant it. Though at 40dB, this isn't the noisiest dehumidifier out there, it's still over the limit for what most people will be able to peacefully sleep through.
This is a shame as, despite having an option for how much moisture your dehumidifier removes from the environment, it only actually has a single speed. This means it will switch on when its in-built humidistat detects that levels are higher than desired (60%, 50%, or 40%). Not unusual, but lacks the control options many will want.
This led to some confusion when first operating the device, as it was unclear whether the dehumidifier is working or not. However, this was due to already low levels of humidity in the room, and, when this rose, the humidistat did its job and the machine burst into life.
Extraction is reassuringly efficient, with the tank filling up a couple of inches overnight. This suggests that, in an environment that needs more care and attention when it comes to humidity levels, it would make quick work of the problem.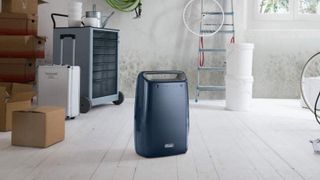 What is the design of the De'Longhi DEX216F Dehumidifier like?
The De'Longhi DEX216F sample that we tested was the blue model. You can also buy the DEX216F in white which is more likely to go with more interior schemes. As with De'Longhi's previous dehumidifier releases, attention has been paid to the appliance's appearance as well as its abilities, which is a little rarer in this space than it is for something like fans or air purifiers. A lot of the options we see are very utilitatian.
The front controls are straightforward, with just two buttons – power and mode switching. A small light indicates what the dehumidifier is doing, whether that's in dry, dryer, dryest, or laundry mode, and two indicator lights show when the water tank needs to be changed or the temperature has dropped too low.
Also good are the carry handle and translucent water tank, which allows you to see how close to the top it is without removing it completely. The DEX216F is also light enough to carry around; for example, you can move it to your bedroom or laundry room whenever you like.
How much will the De'Longhi DEX216F Dehumidifier cost to run and maintain?
Cost per hour: 8p / Cost per day (24hrs): £2 / Cost per month: £60
Based on the cost of 28p per kWh and rounded up/down to the closest value.
Replacements for the De'Longhi Anti-Allergen Air Filter used in the DEX216F cost approximately £10.75 from the brand's store, and it is recommended you replace it every two years. The main filter can be cleaned using a vacuum to remove dust or in the sink with lukewarm water (you should leave it to completely dry before returning the filter to the appliance).
De'Longhi DEX216F vs De'Longhi DX10
De'Longhi makes a few dehumidifiers. We compared it to the DX10 – a slightly smaller and less powerful machine – and think the DEX216F is much better suited to larger spaces. However the DX10 would be better for longer running times as it is cheaper, and is also slightly quieter so could be better for bedrooms.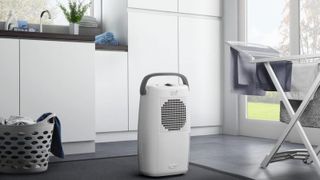 Swipe to scroll horizontally
| Header Cell - Column 0 | De'Longhi DEX216F | De'Longhi DX10 |
| --- | --- | --- |
| Price | £244 | £126 |
| Removal rate | 16L/day | 10L/day |
| Tank capacity | 2.1L | 2L |
| Recommended room size | 750m² | 500m² |
| Speeds | 1 | 1 |
| Noise | 40dB | 37dB |
| Power | 300W | 190W |
| Cost per hour (based on 28p per kWh) | 8p | 5p |
| Laundry mode? | Yes | Yes |
| Dimensions | H50.8 x W33.4 x D22cm | H49.3 x W31 x D18.8cm |
| Weight | 9kg | 8.3kg |
De'Longhi DEX216F Dehumidifier: our verdict
We always appreciate an appliance that remembers not to look ugly, and for aesthetics, the De'Longhi DEX216F Dehumidifier scores top marks. It's also well-designed in practical ways, with a way to clearly see the water level in its tank and a top handle to make transporting the device much more manageable.
The DEX216F, unfortunately, isn't especially cheap to run and comes at a slightly higher price point than some. It's more expensive and less energy efficient than the De'Longhi DX10, but, on the flip side, it's capable of much more with a recommended room size of 750m² (up from 500m² for the DX10). Therefore, we heartily recommend the DEX216F for medium-sized homes without vast amounts of space to store a larger appliance. We can see it in a utility room to keep on top of humidity levels as you dry your clothes.
About this review, and the reviewer
Caroline is the smart homes editor for Real Homes, with her days consisting of testing, reviewing, and comparing everything from the best dehumidifiers and fans to TVs and Alexa speakers. The De'Longhi DEX216F was trialed in a two-bedroom new build house in the South East of England during one of the UK's rare heatwaves. We also tested it overnight to see whether it could be quiet enough for the bedroom. The sample was kindly provided by De'Longhi for review purposes.
Find out more about how we test products at Real Homes.