Whether you like a shot of espresso in the morning or a mocha (decaf) later on in the afternoon, then our Breville Mini Barista espresso coffee machine review is worth a read. Sure, the machine is compact but we found it really packs a punch. And with working from home and home schooling something of a 'normal' way of life for many of us now, why wouldn't you want one of the best coffee machines in your home?
We've been incredibly lucky of had the opportunity to review this coffee machine for the past couple of months. We've challenged it with our varying caffeine requirements – from double shot americanos to lattes and single shot cappuccinos to hot chocolates – for a quick caffeine fix at various times throughout the day. There's then the cleaning and general maintenance which we've had to consider, too, because we want it to keep efficiently feeding our cravings.
Keep scrolling to see how it fared in our home and where you can buy it for the best price.
Specifications
What's in the box?
- Breville VCF125 Mini Barista Coffee Machine
- Café 58mm group handle
- Café Tamp
- 350ml Stainless Steel Café Milk Jug
- Single and double shot Dual Wall filters
- Cleaning pin
- Instructions
Coffee type compatibility: ground
Control type: dial and buttons
Water tank capacity: 2 litres
Pressure: 15 bar
Power: 13 watts
Power cord length: 0.7 metres
Dimensions: H32.5 x W31 x D25 cm
Weight: 5.2kg
Setting up
It's really worth reading the instructions when setting up the Breville Mini Barista Espresso Machine, which is something that – as a less-than-patient person – I didn't really want to admit. BUT it'll really help, no matter how desperate you are for a coffee. Luckily, the instructions are easy to follow.
First use you'll need to remove all packaging – which was mainly all cardboard (hooray) – position the machine where you want it stationed, and hand wash the following; milk jug, drip tray grill, both filter baskets, group handle, drip tray, tamper and water reservoir. Make sure you remove the red plug found at the base of the water reservoir. I nearly missed it but when I saw it I removed it (not seeing this part in the instructions) but good thing I did as we would of had a mini flood. You'll then need to prime the machine – following the instructions – so it's ready for its first use. You're in for a treat...
How easy was it to make a coffee?
The first few goes on the machine were interesting, to say the least. Somehow I got frothing milk all on the machine, my (new) worktop and over the neighbouring toaster. The steam wand is pretty powerful, and it totally was a nice finishing touch to the brew, but I found the noise of the steam wand painfully piercing as it frothed up the milk. This was all down to technique, however. My husband ended up showing ME how it it was done – the trick is to not submerge the wand until bubbly foam appears on the surface.
You have the choice of one or two shots of coffee in your brew which can be easily measured out with the stainless steel filter baskets tamper. If you want a double shot then you can only make one brew at a time, but if you want just a single shot for two then you can place two mugs either side of the group handle (where the coffee drips out) when using the double shot setting. It seemed to work just fine. What I did find, however, is that not all my mugs would fit – nor is the height adjustable on the machine to accommodate – so it was fortunate that the vast assortment of my mug collection were from Le Creuset which did the job superbly. If you don't have a Le Creuset mug, don't worry: any mug which is 350ml / H12 x W9 x D9cm will fit.
Another thing I want to point out at this stage is that if the coffee in the basket is not tamped down enough, there will be some resistance when you go to secure the group handle under the group head. If you find this is the case do not force it, just spoon out some of the coffee. You'll also need to make sure the group handle is securely in place because if it's not, coffee will go EVERYWHERE apart from in the mug. It was an accident on our part (and a learning curve) so we know that this does happen and it's really not worth rushing.
We made all sorts of coffees with the machine during the couple of months of testing with my favourite being an oat milk latte, of course. Other drinks we made were cappuccinos, americanos, mochas and espressos, plus a cheeky hot chocolate (or two) using just the steam wand to froth the milk. The handy instruction booklet also suggests some other coffee styles to try which would be worth a look for some inspiration. For us, we enjoyed experimenting with it and although it is not the quickest way to make a coffee, it's a bit of fun and always made a really lovely brew.
Anything else?
The coffee machine is great for where there is limited space as it doesn't take up too much room on the worktop. It's made from stainless steel which looks fab when new, new but after a few goes turning the dials and pressing buttons it does attract finger print marks. This is nothing which can't be easily sorted with a soft, damp cloth however.
For a coffee machine which retails for around-£250 some may expect to see this model be a little more heavy duty and robust for the money, especially if you're anticipating on using it throughout the day to fulfil your various coffee needs. That said, it is lightweight and easy to move around so it really does depend on what you are looking for. I'm (more than) happy with the build quality, especially since it's so lightweight and easy to move around. It'll make you a coffee-a-day for just 68p which is a fraction of what you'll pay at the local coffee shop, too. Yep, there's a lot to consider.
Cleaning up
After each use, you'll need to remove the spent 'cake' from the group handle by tapping it on the side of the food caddy. It's then just a case of emptying the drip tray (if it needs it) and washing the parts with warm water. The steam wand will also need some attention which means that it requires a purge. This just allows for hot water to flush through it so it's nice and clean for the next use. You can then easily wipe the wand and tip with a damp cloth.
And then every two to three months, the filter baskets and steam wand will need a soak overnight in warm water.
A descale of the machine will then be required every four to six months to remove any build-up of mineral deposits. This can be done with either espresso machine descaling tablets or liquid, OR white vinegar and warm water. We've yet to try this but it doesn't seem complicated (according to the instructions) and will take just 10 minutes to complete so it won' be out of action for too long.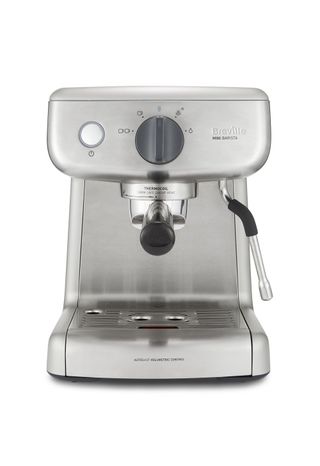 Real Homes verdict: should you buy the Breville Mini Barista Espresso Machine?
If you like coffee and don't have much workspace then YES, it's a given that you should buy this. We wouldn't usually have one of these in the home because of space – and all my other appliance testing – but we've really enjoyed experimenting all the different ways you can use the machine. Granted, it's not cheap being circa £250 and does feel a tad plasticky in places but it is lightweight and easy to move around, which I feel would benefit a lot of potential customers.
And although it's not quick by any means and is a bit of a faff to set up and re-set up at the beginning of each use, I do feel it is worth the spend because the end result is delicious and the progress is a little fun, too. In fact, I think it could rival my favourite local coffee house...
About this review – and our reviewer
Jennifer Oksien is our Appliances Editor across the homes titles at Future. This means that she spends her days working with appliance (and mattress) brands to ensure that you get the best products for your home. She lives in a Victorian terrace which is undergoing an unintentional renovation so whilst stripping back walls, ceiling and floors (etc!) she visualises how the space can be best used with a suite of gadgets, gizmos and home comforts to make home life that little bit more streamlined.
As with all our reviews the Breville Mini Barista espresso coffee machine has been tested first-hand in our home, using it just as you would so you know exactly what you are buying. The products are given to us free of charge and we test them for as long as possible before sending them back to the brand, unless we are able to keep it as we are with this coffee maker. This means that we can continue to use the product which gives us the opportunity to return to our reviews for updating, so you can keep up-to-date with how it's fared over a period of time.