When your boiler breaks down, you can guarantee it will be in the coldest week of the year – and probably right before Christmas. This wasn't quite our situation, but while renovating an old home, we realised that for all the cosmetic improvements we were making, the result would not quite be what we wanted with an old and inefficient boiler. So, when we were offered the chance to test the BOXT boiler installation service (opens in new tab), we were keen to find out more.
The traditional route of getting a new boiler involves inviting a heating engineer to assess your current setup and quote for the work (already tricky in COVID times), followed by them coming to do it. If you are lucky, this can be done fairly quickly – but in winter when everyone else has heating issues too, the wait for the installation can understandably be quite long. If you have no heating and hot water, this can feel like forever.
BOXT have come up with a service that makes this frustration a thing of the past. As long as you order by 3pm, next day installation is an option for most post codes. Find out more in our review, then check out our guide to choosing the right boiler for more advice.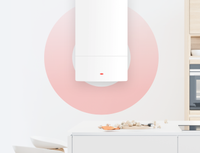 (opens in new tab)
Order a new boiler from BOXT (opens in new tab)
Need a boiler, fast? BOXT offer next-day delivery, fixed prices and won't be beaten on price. Order before 3pm to get your installation for next day.
What is the BOXT boiler installation service?
BOXT (opens in new tab) are experts in heating and cooling, with their next day boiler installation service being their most well-known offering. They also do air conditioning and electric vehicle chargers and offer home cover to service your products after installation.
On top of this, if a smart heating setup is what you want, they offer a host of Google Nest products to control your heating. These include security and smoke alarm devices, too and will be set up by your heating engineer.
Finally, BOXT have a fixed price promise which means no nasty surprises come installation day, and they won't be beaten on price by comparable national services.
The home: where we used BOXT
We used BOXT to supply and fit a replacement boiler for a Victorian mid-terrace. The home has two bedrooms and an open plan living space which leads to a small galley kitchen and bathroom in a 20th century extension.
There is double glazing throughout, but the insulation is not great, especially in the extension. The home was fitted with a very old Worcester Bosch combi boiler (in the ground floor bathroom) and while we had recently upgraded the radiator in the lounge, other rooms were taking a while to heat up.
Booking a BOXT boiler installation
The process is all online and really easy. There is a chat function and a number to call should you get stuck, but the step by step booking is very user friendly.
You order your new boiler and book installation in one go. All you have to do is answer some easy questions about your home and your current heating setup. This includes what type of home you have; how many bedrooms; whether the boiler will be in the same place; and what the current flue is like. They also ask questions about the positioning of the flue to work out if there will be access issues and to check the existing setup is building regulation compliant. You need no technical knowledge to answer the questions – the most technical question is answering what type of boiler you have, though there are notes to help if you aren't sure.
Once you answer these questions, you are given a list of suitable boilers and prices – yes BOXT works out what will suit your property, without having to visit you first. These are listed in price order, or with the recommended buy at the top. They clearly display the heating output and warranty, alongside the basic specs.
We went for the Worcester Bosch 30i for a fixed price installation of £2,050. I checked the price of buying this boiler alone and it is over £1,000 with many installation services costing from £1,600 including VAT – though without the fixed price promise BOXT offer you can't be sure on the end figure. The BOXT offering also comes with a 10-year guarantee.
When you select your boiler, you can also choose to add on radiators should you need new or replacement fittings.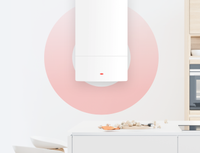 (opens in new tab)
Order a new boiler from BOXT (opens in new tab)
Need a boiler, fast? BOXT offer next-day delivery, fixed prices and won't be beaten on price. Order before 3pm to get your installation for next day.
Google Nest add-ons
After choosing our boiler, we had the option to include thermostats and a selection of Google Nest or Hive Active smart heating and voice assistant products. You can get a basic room thermostat included for free, but we liked the idea of having smart control over the heating so chose the Nest Learning Thermostat (opens in new tab) which programs itself to save energy – clever. It learns what temperature you like your home to be at and can work out how long it takes to heat your home to that desired temperature.
We also included a Google Nest Mini (opens in new tab) to control our thermostat by voice from the lounge or bedroom, a Nest Hub (opens in new tab) to use in the kitchen (which also doubles as great way to watch recipe videos or check apps), a Nest Protect smoke and CO alarm (opens in new tab) and a Nest indoor cam (opens in new tab) to up our security game. All of these products work together for cohesive control over your heating and security, even on the go.
They are competitively priced and will be fitted by your boiler engineer. If you already own smart heating assistants, you can choose to have these connected to your new boiler, too.
What happens next?
After putting your order through, you will get an email confirming what you have bought and the installation date and time. As previously mentioned, if you book by 3pm they can offer next day supply and installation in most places.
They also send you some information about your installer, including a picture. My email told me that David would be coming to fit the boiler and there was a bit of information about him – even how he takes his tea and what biscuits he likes (though BOXT did stress that installers would not be accepting food and drink thanks to COVID guidelines).
The email also includes a video telling you what to expect on the day. This is great for making sure you have prepared your home (read tidied stuff out of the way) to make installation as easy as possible, and also offers peace of mind about the process.
Finally, there is a request to send some pictures so they can confirm the information you provided at booking. This is simple – just five pictures showing the boiler, current boiler controls, pipework around the boiler and the position of the flue, then one of your home. After sending these through I received a quick call from someone on the BOXT customer service team who just wanted to check the position of the flue wasn't going to affect the property next door. This all takes a few minutes, but is a great alternative to waiting for someone to come out and do the checks themselves.
As I ordered just before the weekend, my fitting was to take place on Monday. I missed a call on Sunday morning to check that nobody in the home was isolating for COVID or presenting symptoms, but they sent a follow up email that allowed me to contact them, had this been the case.
Boiler installation day
The engineer was confirmed to arrive between 7:30 and 9:30am – an early start, but a much earlier one for David who had travelled from about three hours away. This might sound odd, but the BOXT model means that you will have whichever installer is available to do the job next day.
David and his coworker arrived shortly after the boiler itself was delivered by courier, at around 8:30am. They did a quick recce before getting started on the installation. After explaining what was involved, they told my partner that they would be finished shortly after lunchtime, allowing him to get on with his day.
He returned around midday to see how things were going and was impressed by how little mess the installation had created – just one tile removed around the flue, but this is hidden in the boiler cupboard. As they finished up, David gave my partner a full rundown of the boiler operation. He also walked him through using the Nest devices and helped him access the app on his phone, explaining how to get the most out of the Learning Thermostat. Before heading off, they even removed a bit of rogue gas pipe that had been left in the lounge when the old gas fire was taken out by previous owners. It was a small job that has saved us calling out someone to do it specially. The whole fitting took less than six hours.
This took place in December 2020 so COVID social distancing measures were well adhered to. Both engineers wore masks and brought their own refreshments.
Aftercare
Once the boiler is installed you receive another email. This includes a PDF of the warranty for your records and an explanation of BOXT's cover plans. It also explains that you will need yearly services to keep the warranty valid and tells you that the boiler fitting has been registered with building control, with a certificate to follow in the next six weeks.
They also let you know how to get in touch with them via phone, live chat and their customer service email. I tested the live chat after installation and got a reply in seconds from one of their engineers.
How does BOXT compare to other national boiler installation services?
BOXT are listed as the number one heating engineer on Trustpilot with a five-star rating collected from over 6,000 reviews. Other reviewers appreciated the speed of service, how professional and tidy the fitters were and the fuss-free booking and installation process. Those who have continued to use BOXT for their annual service are also satisfied, with the care and friendliness of the engineers a common positive piece of feedback.
In terms of price, they will match quotes from competitors and offer a fixed price based on the information you provide at booking.
The verdict
Local trades might offer boiler installation for less, but next day installation is unlikely and you may not have access to the wide range of additional products and services that BOXT offer. If you want an easy, quick and convenient boiler installation then BOXT is definitely for you – especially if you want to upgrade to smart heating controls at the same time. There is no calling various engineers out to quote either, which takes time.
Installation is professional, tidy and well-communicated, and from booking to fitting, you feel like you are kept in the loop at all times. Their aftercare is great too, with warranties of up to 10 years on their boilers and the offer of home cover to keep everything ticking over. We could find no faults, so are giving them five stars.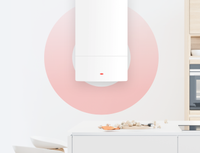 (opens in new tab)
Order a new boiler from BOXT (opens in new tab)
Need a boiler, fast? BOXT offer next-day delivery, fixed prices and won't be beaten on price. Order before 3pm to get your installation for next day.
About this review and our reviewer
Lindsey Davis is Editor in Chief of homes ecommerce at Future and works across a number of home and interiors brands including Real Homes, Livingetc and Homes & Gardens. She is in the process of helping her partner renovate a Victorian mid-terrace, having spent six years improving her own old cottage. Last year she got central heating installed in her property, so has recent experience of using local heating engineers.
Products and services for this review were supplied at no cost, but we have not been paid to write this review. As BOXT supply boilers from third parties, we are not reviewing the boiler itself, but the installation and convenience of the service with the purpose of helping people decide if using BOXT would suit them.