Hosting guests over Christmas who will need to come and go? Letting your house out to holidaymakers for the festive period? Forgotten to leave the keys out for the cleaner? Got a teen who ALWAYS wakes you up in the wee small hours because they've forgotten their key? Been burgled because you left the key under the mat? You need a key safe.
Key safes are possibly (read: definitely) amongst the least interesting purchases you'll ever make in your life. But, they're a pretty important one to get right. After all, the best key safes will help protect your home from intruders who (let's be honest) are all too aware that you keep your spare key under the mat. Plus, they'll make the process of allowing cleaners, babysitters, Airbnb guests and forgetful family members to come and go easier and more efficient.
But again, we appreciate that they're not the most satisfying of purchases, so we expect that you'd like to get the shopping experience over and done with as quickly as possible and not break the bank in the process. Which is why we've done the legwork for you. Let's go.
Below, you'll find a super impressive deal on the Master Lock Key Lock Box, which currently has £11 off at Amazon (opens in new tab). Yep, that's right, you can now pick up this super handy key safe for just £21.80, which we don't think is too much to ask for enhanced home security and an easier, more efficient life if you're tired of the process of passing keys between various people in your life. Shop it below...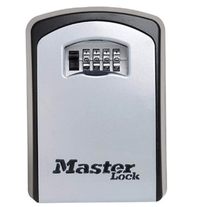 (opens in new tab)
Master Lock Key Lock Box | Was £32.89, now £21.80 | Save £21.80 (opens in new tab)
Find this large, wall mounted key lock currently discounted on Amazon. Its large capacity makes it suitable for storing multiple pairs of keys, while its sturdy design makes it capable of withstanding a variety of weathers.
Looking for more home security tips and tricks?