Uk first-time buyers have found themselves in an unprecedentedly difficult position in 2020. First, the biggest obstacle to home ownership – the large deposits required to secure a home – got even bigger, as mortgage lenders withdrew most mortgage deals for 90- and 95-per-cent property loans.
Then, house prices began rising sharply, leaving many first-time buyers who were already struggling to find affordable housing with even fewer options. It is no wonder that the interest in the government equity loan schemes and other programmes designed to help first-time buyers onto the property ladder. The fact is, however, that while most people have heard about Help to Buy, the other schemes can be confusing to navigate, and some aren't even very well publicised, so people simply don't know about them.
London estate agents Douglas and Gordon have compared every first-time buyer scheme in the country, from Help to Buy and Shared Ownership to the Lifetime ISA and First Homes scheme. Here's how they compare, including the main pros and cons.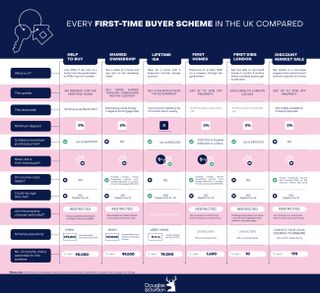 1. Help to Buy: A quick way onto the property ladder
With a 5-per-cent deposit, buyers using the Help to Buy scheme can benefit from a 20% loan from the government, which means a mortgage only needs to be secured for the remaining 75 per cent of the property's value. Help to Buy London gives those buying in the capital a 40% loan, with a mortgage requirement of up to 55 per cent. A Help to Buy loan is interest-free for the first five years.
Pros:
Buy a home quickly
Deposits are low
Interest-free borrowing for five years
Cons:
Limited to specific new-build homes and Help to Buy properties
Can't buy a home for more than £600,000
The loan becomes more expensive over time
2. Shared Ownership: Helpful for those with a small deposit
This Shared Ownership scheme gives you the chance to buy between 25 per cent and 75 per cent of your home's value while paying rent on the remaining share. When buying 25 per cent of a home, you typically only need to put down a 5% deposit on the share you are buying instead of full market value. You then have the option to purchase more shares in your home at a later stage through a process called 'staircasing', until you own 100 per cent of the property.
Pros:
The portion of the home that you own will grow in value
Deposits are low
Mortgages are more accessible, even if you are on a lower wage
Cons:
You are responsible for 100% of the ground rent and service charges on your property regardless of how low your share is
There will be restrictions on home improvements
Not all lenders offer Shared Ownership mortgages
3. A Lifetime ISA: Great for buyers already saving for a home
A Lifetime ISA (Individual Savings Account) enables you to put up to £4,000 a year into an account to save for your first home. If you're already saving for your first property, it makes sense to transfer your funds into this type of account to benefit from the additional bonus. The government adds a 25-per-cent bonus to your savings of up to £1,000 a year. You can then withdraw the money from your account to buy your first home.
Pros:
Grow your funds quickly to buy a home faster
Benefit from a 25% bonus on your savings
You can top up your account annually or monthly
Cons:
Can't buy a home for more than £450,000
Those with an inherited property are not eligible
An account must be active for 12 months before the bonus kicks in
4. The First Homes Scheme: Help save a new build
This is a new scheme that enables first-time buyers to get a 30 per cent discount against market value on homes across the country, reducing deposit and mortgage needs. Details of this scheme have not yet been finalised, but it does intend to help first-time buyers afford property in the areas they grew up in, rather than be priced out.
Pros:
Get a discount of up to 30% on the market price
Pay a reduced deposit
Cons:
Can't buy a home for more than £250,000 in England or £420,000 in London
Income caps apply – you must earn less than £80,000 in England and £90,000 in London
5. First Dibs: Gives locals the most competitive advantage
This scheme was announced by Mayor of London Sadiq Khan in 2018, to ensure locals get 'first dibs' on new homes for three months before they are marketed to an overseas audience. First Dibs for Londoners gives anyone living in the capital a month head start on the three months before it rolls out to the rest of the UK.
Pros:
Exclusive access to new builds on the market
You only need to compete with the local market
There are plans to start construction on 90,000 new homes by 2021, but this has yet to be confirmed by the government
Cons:
The scheme only applies to homes up to £350,000
Supply can't currently meet demand
The policy is voluntary and not all housing associations offer it
6. Discount Market Sale: Ideal if location is not a priority
This low-cost home ownership scheme enables new build properties to be purchased with discounts of up to 20 per cent or more. To be eligible, you must live in the area in which you want to buy. Each council has its own requirements to be eligible.
Pros:
Helpful for low and middle-wage earners
Benefit from discounts of up to 20% and more
Purchase a property in an area you grew up in
Cons:
You must be a resident in a borough that offers the scheme
Your annual household income can't exceed 45% of the property's discount market sale price
Not all councils and housing associations offer the scheme