Considering a little bedroom renovation to kick-off the new season? Smart idea. The kids are back at school so you'll have plenty more time on your hands for planning. Because you know what they say: tidy bedroom, tidy mind (or something like that). And, we all know that getting a good night's sleep should be high on your priority list – a bad night has the ability to drastically alter not only your mood but your appetite, appearance, performance and more. It's the key to living a long and healthy life, simply enough.
That is why Argos have launched a Sleeptember campaign to help you bag the bedroom furniture items you need on a budget, while guaranteeing that you'll love them. Offering a 100 Night Comfort Promise, Argos' mattress range is completely refundable should you not get on with the one you choose. Not only that but you can buy from this retailer online today and pick up from your local store later, or same-day delivery is available, too. So whether you don't fancy traipsing around the shops and queueing in your mask, or you just wanted to shop a great bedroom sale event, Argos have you covered. Here's what we think you should be looking for...
1. Pick the perfect bed
While we couldn't agree more that a bed should look nice in your bedroom, it also needs to be comfortable and offer enough support. It also needs to be practical in terms of storage, and within your set budget. Only a few things, then.
Argos sell everything from divan beds to day beds and bed frames (wooden, metal and upholstered by the way). The best part? There's up to 20 per cent off selected beds online right now. We're loving the supportive yet minimalist Chiltern Spindle Kingsize Bed Frame, as well as the Forty Winks 1500 Pocket Double Divan – storage goals – and, the new and affordable Tribeca Ottoman Double Bed Frame.
2. Get the lighting juuust right
Some of us can sleep no matter how bright it is in a bedroom, while others need complete darkness to get any form of shut-eye. Whether you find it difficult to sleep longer in the lighter months due to light peeking through your blinds, or, a newly installed street lamp outside your house tends to keep you awake, a pair of blackout blinds will transform the way you snooze. They feature a thick thermal lining that not only blocks light out, but helps to keep your room cool at the same time. Buy that and a smart bulb for the ultimate lighting situation – turn your bulb red half an hour before you sleep to unwind the right way. Trust us, it works!
You could also buy a smart alarm clock to make early mornings a little more pleasant – no aggressive beeping to be heard, and you can turn it off with your voice. Not only that but a smart alarm clock can brighten up your bedside table and create a nicer bedroom environment; pop a reed diffuser next to it to make your bedroom look and smell the part.
3. Find the most comfortable – and easy to wash – bedding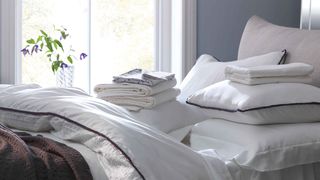 This is a key part to creating your bedroom sanctuary. You'll need to find comfortable bedding – made from a lovely material – that also matches your budget. We're talking duvets, pillow cases, sheets and more. For the best night's sleep around, both us and Argos suggest opting for 100 per cent cotton bedding, whether that's brushed cotton, bool cotton, easycare cotton or Egyptian cotton. The important part is that it's not scratchy and it fits well, so as not to wake you up while you are deep in Zzzs.
Looks don't need to be sacrificed however – with the huge range of bedding available at Argos, you needn't worry about finding something that ticks all your boxes. When it comes to duvets, tweak your tog based on whether you are normally a hot or cold sleeper, or opt for a year-round one that can be used at three different tog levels. Less to store and it's a cheaper alternative.
4. Don't forget a mattress…
A mattress is one of or if not the most important thing you can buy for your bedroom. If this isn't right, you will not get a good night's sleep and we know how important that is for you and your family. Argos sell six different sizes of mattress from shorty (for kids) to superking. These mattresses range from open coil – that's a classic spring mattress – to pocket sprung ones, memory foam mattresses and hybrid options.
Based on the way that you sleep, you'll need to choose a mattress that cushions your joints. Side sleeper? Choose something soft or medium. Back sleepers should opt for a medium mattress to evenly distribute their weight, while stomach sleepers will want a reasonably hard mattress – we're talking medium-firm or firm – to keep their spine better aligned. Thanks to Argos' 100 Night Comfort Promise you can buy your new mattress online, worry free. If you can't get on with it, they'll exchange it for a different model. No faff.
5. Choose the bedside table of your dreams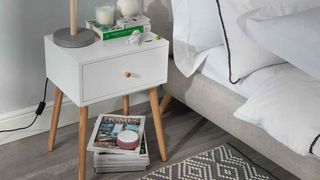 What to consider when choosing a bedside table? Size over looks. If you need lots of drawer space for your favourite products, the kids' stuff, to play home to your favourite book – we could go on and on – then opt for something that's storage smart. Otherwise, you'll have knick-knacks littered all over your bedroom and remember what we said: tidy bedroom, tidy mind. Storage solutions play quite a large part in getting good sleep, since some studies have seen a connection between messy bedrooms and a lack of quality sleep. A clutter-free bedroom can help you unwind and relax faster.