You've decided to extend your home, you've found an architect or designer to work with, and you've agreed your budget.
Now it's time to focus on those all-important 'wow factor' design statements that will bring your project alive – and bi-folding and sliding doors are right up there.
Glazing is a great way of injecting personality into your extension or self- build while bringing masses of natural daylight flooding into your home, whether through bi-fold or sliding doors, or a strategically placed glass roof lantern. It's a design approach that works equally well with period and modern homes.
How to choose the right bi-folding and sliding doors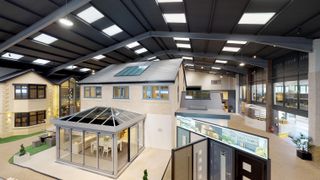 When it comes to bi-folding and sliding doors, there are a few things to consider: the style, the type of glass, the frame material, security and energy efficiency.
Industry experts believe that the best way to do your research is to view the product for yourself in a showroom, seeing and feeling the designs in a live setting, as well as getting up close to examine the finer details. Charlie Luxton, Architectural Designer, explains why it's worth visiting an Express Bi-folding Doors showroom.
Visiting a showroom will also give you a chance to talk to the supplier about their approach, credentials and product range, and to discuss your own plans, even if they're at the early stage.
If you're concerned about visiting a showroom at the moment, it's worth pointing out that suppliers and retailers have been busy adapting their showrooms to the 'new normal', with social distancing, mask wearing and hand sanitisers all in place to make the visit safe for customers and staff.
Viewing at home
With so much of our buying decisions taking place online now, it's also worth spending time looking at the wealth of online tours available – it's an easy and effective way of finding the right products for your project.
Express Bi-folding Doors are a good example: you can take a virtual tour of any of their four inspirational showrooms, giving you an in-depth look at how their products might look in your own home.
What's more, you can take an online tour of some of their most inspiring projects, giving you a chance to see how their products have been used to best effect in real homes.
To speak to one of Express Bi-folding Doors' experts, or to book an appointment to visit one of their four showrooms in Leeds, Redhill, Romford and Glasgow, visit the website or call 0800 121 4809.
Express are now taking bookings for next year, order your free brochure now.