This season is all about enjoying an excuse to stay in. And what better an excuse than creating a space that makes home the place to be. We are thinking a dining room that outdoes the most stylish restaurants, a bedroom that beats the comfiest hotels and a living room that makes you more relaxed than any spa day.
Surely, imparting a luxury feel at home is going to cost you, you think. But what if we told you that there are loads of ways to upgrade your home in style for less than a night away or dinner out? We have been browsing John Lewis & Partners – our first stop for superior quality homeware – and found plenty of affordable pieces for a quick weekend restyle. Everything on our list costs under £200 (most is less than £50) so treat yourself to whatever you need, be it new bedding, finishing touches for your lounge, or a set of glasses that actually matches.
1. Eco-friendly bedding that doesn't cost the earth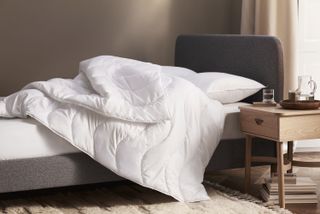 If you have decided it is time to cast off the decade-old duvet you acquired when you first moved out and invest in some quality bedding, then don't assume you need to spend a lot to get something that ticks all of the boxes. Cosy, sustainably-made and machine washable up to 60ºC, we love the Synthetic Soft Touch bedding range at John Lewis & Partners. With prices starting from £10 for pillows and a 10.5 tog double duvet for just £35, you can easily upgrade for the colder months. So start and end the day in supreme comfort – whatever your budget.
2. For making an impact your wallet won't notice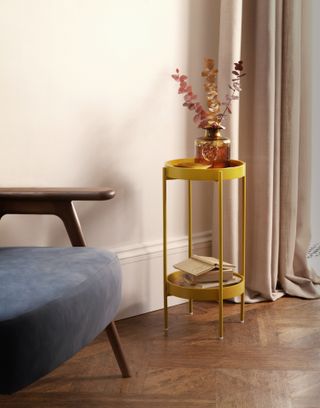 A complete revamp of your living space takes time, but it is amazing how a few finishing touches can transform a room. We don't all have the funds for the latest statement sofa, so when budgets and space are tight, a side table is a great item for giving your lounge a polished look, while offering the practicality of another surface when you need it. The Jax side table comes in bold Mustard, sultry Dusty Green, on trend Grey and demure Almond and is the perfect occasional table for any space. For just £59 it is an affordable choice that looks as home in a retro setting as it does a bright, modern room – it is the perfect spot for your favourite succulent, too.
3. One pot wonders at a wonderful price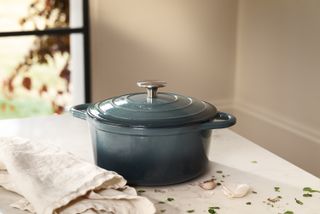 When the temperature drops we are all about an easy one-pot dinner at the end of a long day. This is why every household needs a hard-wearing, cast iron casserole dish that can go from hob to oven to dinner table, and means just one thing to wash up at the end. If you don't already have a good casserole pot, John Lewis & Partner's Cast Iron Round Casserole is a must buy. It comes in three sizes (21cm, 24cm and 28cm), two colours – gorgeous grey or beautiful blue – works on induction hobs and includes a lid for sealing in heat and taste while you cook. Prices range from £45 to £65 and it has a lifetime guarantee so it is a great investment for years of delicious home-cooked meals.
4. Timeless Disc dining chairs = Midcentury style for just £199 a pair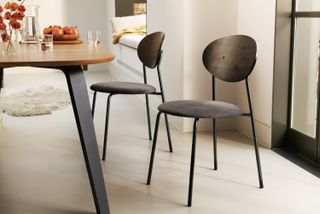 Good food deserves to be enjoyed at the table, not off a tray on your lap in front of the TV. So set the scene for dinner with these stylish chairs which offer designer style without the price tag. Compact and streamlined, the Disc dining chairs from John Lewis & Partners have all the makings of a design classic, too. They have a soft velvet seat – very luxe – and a pressed oak veneer backrest that comes in natural oak or brown oak. They cost just £199 for a pair and will be a glam addition to your dining space through many a trend.
5. A round of drinks that won't set you back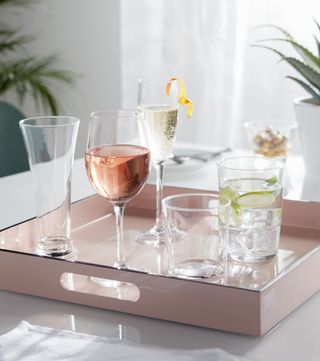 Don't be the friend who never has enough glasses and has to serve bubbly from a mug when more than three people come round. Simple, no frills glassware for every type of beverage can be yours from just £8 for six glasses at John Lewis. From classic wine glasses for your favourite pinot noir to tall beer flutes for a chilled pilsner, you can find everything you need with John Lewis's House Glassware collection. So, for just £40 you can have a full set of tumblers, hi-ball glasses, Champagne flutes, wine glass and beer glasses – that's every cocktail, whiskey, craft ale and more, all served in the right glass. Get you.
6. For setting the mood, without setting you back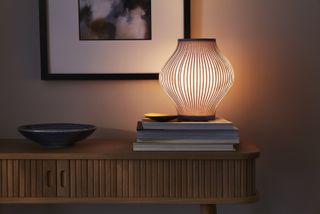 It is a fact that you can't cosy up to watch a film or chill with a good book with the 'big light' on. You know what we mean – the bright overhead pendant, practical but mood-killing spotlights or too-bright for date night wall lights. Task lighting is great for tasks of course, but living rooms (and bedrooms) need ambient lighting that saves you from sitting in the dark. We spotted the charming Harmony table lamp on John Lewis & Partners for just £40. Small enough to sit on a bedside table – or the Jax sidetable of course – with a soft lantern shape that says 'look at me... but not too much' it will work so well in rooms of every size and style. It also comes as a floor lamp, or taller table lamp that would work well on a hallway console.
Need interior design advice?
Whether you're refreshing a room or rethinking your whole home, John Lewis & Partners can help you create a look you'll love with their Home Design Service. Book a virtual or in store appointment free of charge with no minimum spend.