When Sharon and Garry Lomas moved to the Lake District in March 2020, it was the second time they'd upped sticks for a complete change of lifestyle. In 2015, Sharon left her job as an advertising manager in Manchester and the couple started an interiors store and gallery in the Derbyshire village of Hayfield, renting an apartment above. 'I'd had enough of my job and it was something I'd always wanted to do,' says Sharon. 'Although we had an amazing five years there, we were working constantly and wanted to slow down.'
After a three-month search across the Lake District, a former brewery manager's house came up for rent in the village of Caldbeck. 'It was love at first sight,' says Sharon. 'The rooms had great proportions and we were completely seduced by the original floorboards, high ceilings and fireplaces. In the agent's details, every room was painted magnolia, but as we walked round, it was clear the previous tenants had done some painting since then. The dining room had a red chimney breast and the living room had a red shagpile carpet, while the office and master bedroom both had pink and purple walls – so we knew the landlord would be open to us making changes.'
Enchanted by the house, the pair were happy to rent instead of buying. With lockdown looming, their moving date was brought forward to 18 March and new kitchen appliances hurriedly ordered in anticipation. 'I was determined not to do anything for nine months and just live there to get a feel for the place, but I only lasted a couple of months,' says Sharon. 'And of course we had more time on our hands than anticipated during lockdown.'
Over the next year, the couple gradually added their own touches to the house, from repainting and installing new handles in the kitchen to revamping the master bedroom and en suite with clever temporary touches. Scroll down to see the transformation – and pick up some inspiration for your own home, rented or not.
Living room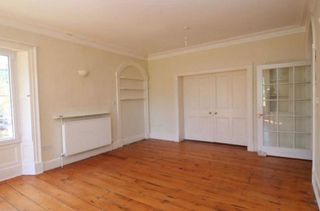 Profile
The tenants Sharon Lomas, owner of interiors brands Lomas & Lomas, Fern + Fell and A Story of Home (@a_story_of_home), lives here with her husband, Garry, who runs Garry Lomas Photography, and cocker spaniel Max
The property A rented four-bedroom Victorian detached house, built in 1861, in Caldbeck, Cumbria
Project cost £10,285
The pair began by decorating the living and dining rooms, which are connected by glazed double doors. 'It was crying out for period colours,' says Sharon. 'The Victorians really embrace dark, rich colours, and the artwork I chose was also a nod to that period with bird illustrations and pineapples. I wanted a palette that reflected my favourite seasons – spring and autumn – as well as the natural landscapes of the Lakes.'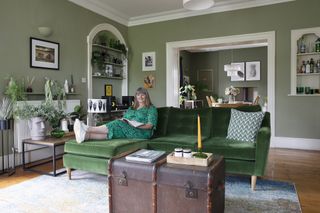 As Sharon and Garry used to live in a first floor flat, their furniture options were limited. 'Everything had to be small enough to go up two flights of stairs,' says Sharon. 'Now I can have the corner sofa I'd been dreaming about for two years.'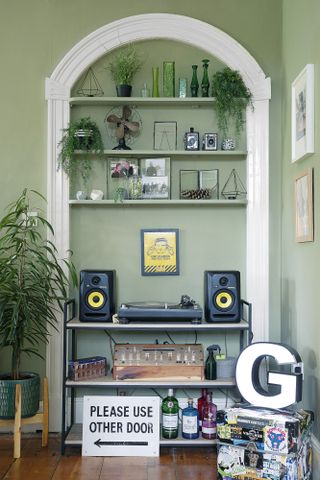 The shelved alcove used to be the front entrance, and was blocked up about 15 years ago when part of the hallway was incorporated into the living room. The decks belong to Garry, who used to be a DJ.
Kitchen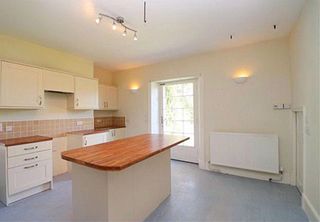 After buying a puppy, Max, the couple turned their attention to the magnolia kitchen. 'As far as rentals go, it's pretty inoffensive but as we were getting up early with Max, I couldn't take the cold starkness any longer,' she says. 'I used green paint leftover from the living room on the walls, replaced the chrome handles with black ones and bought some vinyl rugs that look like tiles.'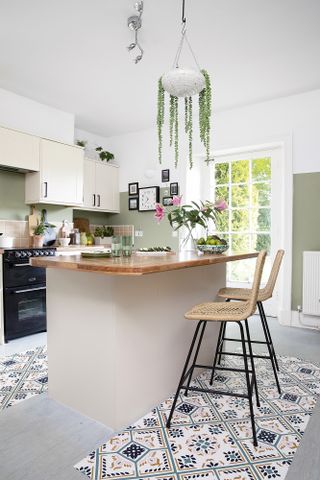 Sharon and Garry's landlord was happy for them to repaint the magnolia kitchen walls in green. 'I painted a line two thirds of the way up the wall, so when you look out the door it's level with the woodland ridge on the horizon,' says Sharon. She's also repurposed her gran's 1940s light pendant as a planter.
Dining room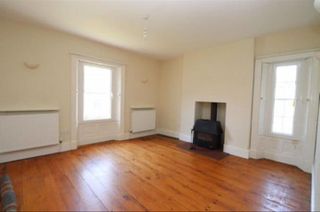 Having taken a screen printing course, taught herself to sew and completed a diploma in interior design, Sharon was adept at putting together a scheme, upcycling furniture and achieving a high-end look on a budget. 'I'm definitely a serial decorator and I'd describe my style as contained maximalist,' says Sharon. 'But these days I try to consider what I buy and consume more.'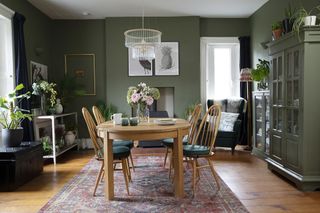 Sharon wanted the living and dining rooms to work together as one space, but also feel different when the connecting doors were shut, so she picked a darker green paint to make the dining room feel cosy. 'Although radiator covers look nice, I think they block a lot of heat,' say Sharon. 'I've used two old console tables and covered them in plants and canvases to stop them standing out against the dark walls.'
Home office/guest room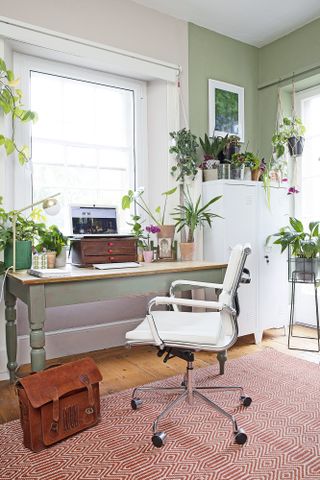 This ground-floor room wasn't even mentioned on the agent's details when Sharon and Garry viewed the house. 'It felt like a bonus room,' says Sharon. 'I claimed it as my study, as it had built-in shelves, a window and door onto the garden.'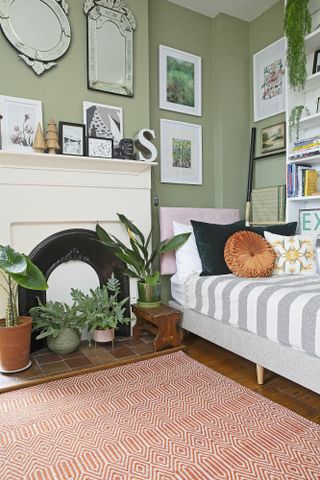 After painting the walls green, Sharon created a little reading nook on the other side of the room with a daybed opposite her desk – perfect for guests coming up to stay.
Bathroom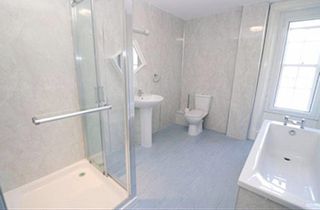 The existing bathroom was basic, with panelling across the walls and a grey lino floor, plus white sanitaryware.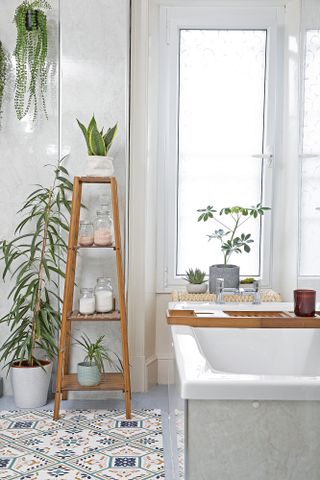 Although the wall cladding is practical, it's not to Sharon's taste. 'Once I'd added plants, bamboo shelving and vintage decanters full of bath salts, it detracted from how boring the bathroom is,' she says.
Bedrooms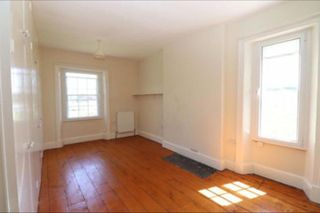 Costs & contacts
Furniture and handles £4,340
Kitchen appliances £1,800
Plants and accessories £1,490
Rugs £1,345
Paint and wallpaper £1,050
Lighting £260
Electrician Hellon Electrical
Decorator (mural) Graham White, 017684 84695
With four bedrooms upstairs, Garry was able to take the biggest as his work space while Sharon has an office on the ground floor. Naturally they picked the room with an en suite shower and fitted wardrobes as their master, leaving two double bedrooms for frequent guests.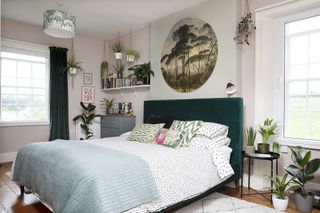 With windows on two sides, the main bedroom gets both the morning and afternoon light. 'I couldn't not have any green in here,' laughs Sharon. 'But I kept the existing pale pink and opted for a pale green on the chimney breast.'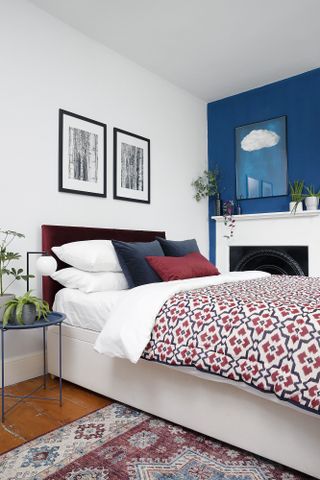 The chimney breast in the guest room was already painted blue, luckily matching the pretty bedspread Sharon was gifted by her mum. 'I never had anywhere for it to go before, so the scheme has been built around it,' she says. 'I plan to paint an arch behind the bed in a different shade of blue.'
The couple have no regrets about closing their shop and moving to the Lake District. It's enabled Sharon to start an interior design consultancy, A Story of Home. 'We love it here and feel very connected to the community in a short space of time,' says Sharon. 'We have no plans to move any time soon, but hope to eventually find the perfect piece of land on the edge of a wood to build our own modern lodge-style house.'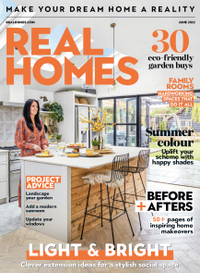 Subscribe to Real Homes magazine
Want even more great ideas for your home from the expert team at Real Homes magazine? Subscribe to Real Homes magazine and get great content delivered straight to your door. From inspiring completed projects to the latest decorating trends and expert advice, you'll find everything you need to create your dream home inside each issue.