Looking for the best wireless charger, whether for an iPhone, Samsung or any other electrical device? These days, developers put as much thought put into the appearance of a wireless charger as the technology, which means they can actually contribute to the aesthetics of your home, as well as reducing the number of wires and – most importantly – charging your devices.
Available in a variety of forms; from stylish hubs to ergonomic mats and platforms, there are a few options available when it comes to choosing the best wireless charger to suit your needs. Our guide features options compatible with Apple, Samsung and other Qi enabled devices.
Looking for more advice, information and specialist, home tech buying guides? Browse our technology hub page.
What is the best wireless charger?
Why you can trust Real Homes Our expert reviewers spend hours testing and comparing products and services so you can choose the best for you. Find out more about how we test.
In our opinion, the best wireless charger currently available is the Samsung Multi Wireless Charging Pad, which is sleek, modern and minimalist, while fulfilling all its technological capabilities.
Designed with an ergonomic pad, this wireless device is capable of charging up to three devices at once and comes complete with a subtle LED indicator to let you know when an electronic device is – and isn't – charging.
How to buy the best wireless charger
Our recommended retailers for the best wireless chargers
When it comes to buying the best wireless charger to suit your needs, we'd recommend bearing the following factors in mind:
Compatibility
This is the most important factor to bear in mind when choosing a wireless charger. If you're the owner of an iPhone 8 or above, or a Samsung Galaxy S6 – or above – your device is Qi enabled, meaning it'll be possible to charge it wirelessly. That said, not all wireless chargers are compatible with all phone models, so make sure you look into this before committing to a purchase.
Discovered your phone isn't compatible with a wireless charger? These phone cases are designed to make non Qi enabled devices compatible with wireless chargers:
Number of devices
The number of devices that can be wirelessly charged at one time is another factor worth considering. Some models can charger up to three or four devices at one time, while others will only manage one.
The best wireless chargers you can buy right now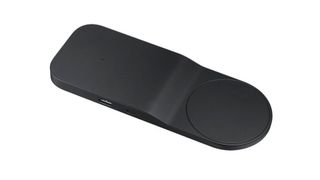 There are ergonomic pads, then there are those that have been designed to become a feature of your home – and that is exactly what Samsung intended to do when they developed this wireless charging pad.
It's sleek, modern and minimalist but the design doesn't take away from its technological capabilities, thanks to its ability to charge three devices at the same time. There's even a subtle LED indicator to let you know that your device is charging.
Perhaps the one thing to note is the plastic exterior of the wireless charger won't prevent a device from slipping slightly from its position, which may affect the charging process.
Shop more wireless chargers on Amazon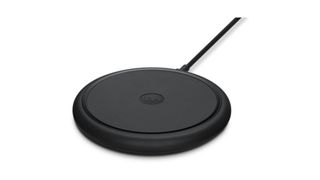 If you're looking for a subtle wireless charger that you can place in any room, this base designed for the latest iPhone models may fit the bill. Small and circular, you can choose for it to become a feature of your decor or a device used solely for purpose.
Reviewers seem impressed by its rubberised finish, which not only prevents your iPhone from slipping off, but also leaves no cause for scratches. There's also a subtle LED indicator to let you know that your phone is charging.
Browse eBay for more wireless chargers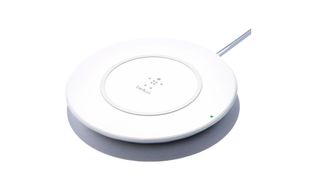 If you like the subtlety of our second pick but think white will harmonise better with the rest of the decor in your home, this one is a good alternative. Technology wise, it's pretty much the same, and has the bonus ability of being able to charge any device with wireless charging capabilities, whether its Samsung, Apple or other.
It's worth mentioning that an Apple update is required to ensure your iPhone benefits from its full 7.5W charging capacity, otherwise it'll receive 5W, which is the amount of power it will emit for Samsung or any other device.
Try Argos for more wireless chargers currently available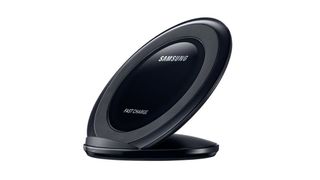 This wireless charging stand from Samsung will enable you to view your messages and notifications while your phone is charging, great is you work from home and use your phone as your main form of communication.
You can even charge your phone horizontally if you happen to be in the middle of watching something when the low battery notification pops up. Available to purchase in both black and white, there's the option to choose a colour that will harmonise with your existing decor.
Head over to John Lewis & Partners for more quality wireless chargers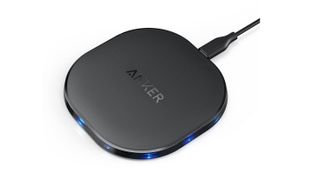 The smallest wireless charger in our list, this is probably the perfect choice if you're looking for a sleek, unobtrusive option for your desk or bedside table. It can charge both Apple and Samsung devices, but is only capable of fast charging the Samsung Galaxy.
It features a rim of blue LED lights which will flash to say that the device is charging, and reviewers say they turn off while the phone is charging so they won't distract you if you're trying to get to sleep.
Note that the cable for this wireless charger is fairly short, so you may need to consider the position of your mains plug before you buy.
Find more wireless charger on Very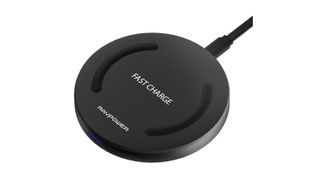 While it may look basic, this budget wireless charger has actually earned itself some pretty impressive reviews when it comes to its usability, with many commenting on its value for money.
For the price, it should charge just as well as more expensive devices, just note that its fast charge technology doesn't support current iPhones, although it'll still deliver 5W of power, which will take slightly longer to charge.
If you're looking to buy multiple charging platforms, this one is a great option, as there's no compromise on style, yet its cost-effective. The retailer also mentions that they can supply longer cables on request.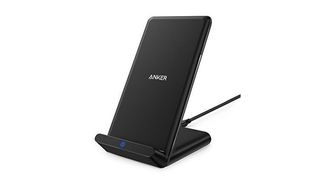 This wireless charging stand is probably more ergonomic in appearance than the Samsung alternative, although Anker claim that is able to charge an iPhone 10 per cent faster than other 5W wireless chargers.
The stand allows you to view your messages and notifications while your phone it charging, and you can even charge horizontally if want to watch something. It's cheaper than the Samsung alternative, and with that you compromise on the fast charging technology.
Reviewers also find that the blue LED light may make you think twice about putting it on a nightstand.
Shop more wireless chargers available from Littlewoods
Looking for more home tech advice and information?