'What essential oils are good for headaches?' is the question that might be top of mind if you're experiencing head pain such as a migraine, tension or cluster headache.
If you don't want to reach for pain medication such as paracetamol or ibuprofen in pill form just yet, investing in some essential oils might be a good alternative, as a holistic alternative might help alleviate that head pain. Especially if you own an essential oil diffuser that you can use your oils with.
But we're not talking synthetic fragrances and scents. Instead, opting for oils derived from plants and seeds is a natural way to get rid of tension and sinus-related maladies.
So we spoke to aromatherapy and interior experts who shared what essential oils are good for a headache, including instructions on how best to integrate and use these aromatherapy oils in your home when you're not feeling your best.
They've whittled it down to five hard-working herbal extracts so next time you shop online or go into a wellbeing store, you shouldn't feel overwhelmed by an abundance of bottles and ever-promising potions.
However, as always, it's best to consult your doctor for professional medical advice before introducing these into your health regimen.
How to use essential oils for headaches
'There are so many ways to integrate essential oils into your daily routine that may help subside headaches, but here are our favorites.' says Emilie de Block, founder, and essential oil expert, Bio-Scents.
'The most effective way to use essential oils is through inhalation so always opt for that if you can. By inhaling the essential oils, their vapors go through the olfactory nerve and get to the limbic system the quickest, which is where they have the desired effects.'
'If you are going to inhale essential oils undiluted and directly from the bottle do this for no longer than 5 minutes per hour. We advise adding a few drops to a carrier oil to breathe in regularly or rub under your nose.'
If you're a little worried about direct inhalation, you might be asking yourself 'are essential oils safe?' The answer is yes – if used correctly. But if you don't want a full-on dose from the bottle, or want to share the experience with others in the household, an essential oil diffuser is a worthy investment that you can use in the home – even when you do feel well.
On the other hand, if you want to keep the smell to one area of the home (such as your bedroom), you might be more inclined to splash out on the best reed diffuser or learn how to make your own reed diffuser to completely customize your experience. DIYing your own can be a therapeutic craft experience that might help take your mind off the stressful event causing your headache.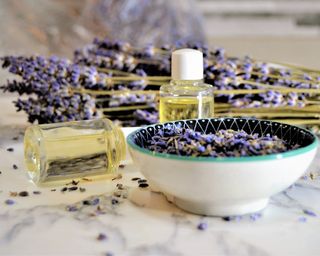 1. Lavender essential oil
'Lavender's soothing effects reduce your stress levels which can help slow down your racing thoughts before bed,' says Nick Shacklock, head of marketing and brand development, online-bedrooms.co.uk
'It is believed to treat anxiety and insomnia - one of the main reasons why people find it difficult to fall asleep. You can apply lavender essential oil to your skin before you go to bed or add some drops to your bath or diffuser.'
And de Block agrees, she says: 'Lavender essential oil is commonly used for stress relief and relaxation, but there's also strong evidence and studies that show lavender can help ease symptoms from headaches and migraine.'
'It's also been proven that breathing in the scent of lavender essential oil can help acute management of migraine attacks so we'd recommend applying a few drops undiluted to a handkerchief and inhaling it directly. Alternatively, use it diluted with a carrier oil and add to a warm bath - the infused steam and water will work its magic.'
While Mark Winstanley, creative Director, The White Company adds: 'Our 100% organic lavender aromatherapy oil helps to soothe and calm the mind. Described as one of aromatherapy's most powerful herbs, lavender is renowned for its relaxing scent to help ease away the stresses of the day.'
'For everything from a mood boost during the day to winding down before bed, our oils can be added to our natural bath and body carrier oil to create a scented bath or body oil, or added as drops to our air purifier and electronic diffusers to help freshen up rooms and purify the air.'
2. Peppermint oil
As well as being a deterrent for pests, mint oil can also help to eradicate a headache. One expert shares the science behind this invigorating oil derived from Mentha piperita L.
'Peppermint oil is one of our favorite essential oils when we're suffering from headaches and migraines as it contains menthol, which is believed to relax muscles and ease pain,' says de Block.
'We would recommend using it diluted with a carrier oil and applying topically to the temples and forehead.'
While Rich Quelch, global head of marketing, Lifestyle Packaging says: 'A little-known fact is that peppermint oil can also help to reverse mental fatigue and anxiety, according to research – making it a useful remedy if frustrating symptoms are causing you sleepless nights.'
3. Chamomile oil
Thought these pretty flowers just made a calming cup of pale yellow tea? The flower power of Matricaria chamomilla spans much further than a hot beverage with medicinal properties to help provide mild support for your headache.
'Chamomile has a fragrant scent that has many well-being and mood-lifting benefits. It's a natural antibiotic that also reduces inflammation and soothes nerves and muscles. Using it as an essential oil will relax your mind as well as your body,' says Shacklock.
4. Rosemary oil
You're probably more accustomed to seasoning your roast lamb dinners with this herb, but have you ever thought that the extracted oil could help with a headache? Rather than (unsuccessfully) attempting to squeeze the oil out of your Salvia Rosmarinus sprigs, invest in some pure rosemary oil on Amazon instead. By working a little into your hair, you can stop a throbbing headache and clean your scalp at the same time.
'Rosemary oil has powerful anti-inflammatory and analgesic (pain-relieving) properties and in folk medicine it has been used for hundreds of years for stress reduction, pain relief, and improved circulation; which can all help headaches,' says de Block.
'Apply a rosemary infused carrier oil to your hands, and breathe it in deeply to relax muscles, ease tension in the head and de-stress.'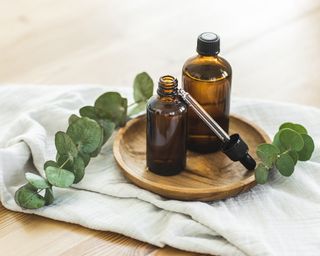 5. Eucalpytus oil
You don't have to be a Koala in Australia to experience the benefits of Eucalyptus oil. With a honeyed mint-like smell, this essential oil is a pleasant scent that you'll want to inhale even when you aren't having issues with head pain. As this oil can be a little expensive, why not use a DropperStop glass bottle with dropper (available on Amazon) to ensure you're only using what you need.
'Eucalyptus is known to be a powerful sinus cleanser which is why it's so frequently used in spas. So if your headaches are caused by sinus issues, then we recommend that eucalyptus should be your new best friend,' says de Block.
'This powerful oil may help open up the nasal passage, clear the sinuses, and relieve sinus tension that causes headaches. We would recommend applying a few drops of eucalyptus to a carrier oil and applying it to the chest to help clear the sinuses. Alternatively, you can make a steam bath, but adding a few drops to hot water and breathing in the steam-infused vapor.'
Artizen's eucalyptus oil, (available on Amazon) is a non-diluted product and does not contain any carrier oils. With over 108,000 reviews, it's an affordable product to try. With this option, you won't need to buy the dropper separately either.
How to use essential oils in massage
'Mixing your essential oils with a carrier oils like jojoba and almost oil are a great and safe way to use essential oils when you have a headache,' says de Block.
'The infused oil can be massaged into your forehead and temples for tension relief, massaged into your hands allowing you to breathe it in quickly and deeply, or even rubbing a small amount under your nose to inhale throughout the day.'
'The magic of these infused oils is that you can use them anywhere you like. We also love to massage small amounts onto the acupressure points Yin Tang 12 and Large Intestine 4 - known for headache relief and let the aromas of the essential oils work their magic.'
'Large Intestine 4: is located on the hand in the web between the thumb and index finger the point Li-4 works to relieve Qi stagnation and is known to relieve headache symptoms quickly. Apply pressure to the web between your thumb and index finger and massage for 2–3 minutes in a circular motion.'
'Yin Tang (often known as your 'third eye') is our favorite point if you suffer from blue light headaches or spend a lot of time in front of a laptop. This point helps your body relax and reset whilst relieving tension in your forehead and eye area. Find the point between your eyebrows, apply pressure and massage it in small circular movements.'
Just in need of some jojoba? We've found an affordable, cold-pressed and unrefined pick on Amazon for cheap. The good thing about jojoba oil is that this odorless so won't mask the smell of the essential oil you're sing
Using essential oils in a diffuser or humidifier
'Dry air can irritate sinuses and cause headaches and dehydration, so keeping your indoor air moist with a humidifier is a great place to start if you suffer from headaches,' advises de Block.
'You can purchase oil diffusing humidifiers which allow you to add a few drops of essential oil to the water that will infuse your home, alternatively, you can use an electric diffuser or ceramic candle burning diffuser.'
For best results, you'll want to make sure your appliance is squeaky clean, so make sure you know how to clean a diffuser first (well before you experience that headache.)
Other ways to use essential oils when you have a headache
So far, we've covered inhaling oils from the bottle, using handkerchiefs, essential oil diffusers, reed diffusers and humidifiers. But there is one more way to breathe in the benefits of essential oils. And that's through a pillow spray.

You can DIY this bedtime treat by decanting your favorite oil into an atomizer (this pocket-sized refillable perfume bottle from Amazon is great for handbags too) or if you don't want to go down the do-it-yourself route, buy a ready-made option such as the Thisworks deep sleep pillow spray – again available from Amazon.
Ready made blends
As well as using one type of essential oil for headaches, you can blend two together to get the benefits of multiple botanical extracts without having to burn them together. By mixing peppermint and lavender oil, you can create an oasis to help your head pain go away.
If you don't want to start mixing and matching oils, you can buy blends that have already been expertly blended for ease.
Luke Taylor, master blender, Aromatherapy Associates says: 'Aromatherapy can be used whenever and wherever you need and dependant on your needs.'
'Support Lavender & Peppermint Bath & Shower Oil [on Amazon] is a complete SOS for headaches, this supreme oil is laden with soothing Peppermint and high-altitude grown Lavender. Together they dissolve tension headaches and counter moments of over-indulgence as you soak or shower.'
Blending you own bespoke aromatherapeutic oils is so much fun (more so when you haven't got a headache). So have a go with our essential oil recipe guide.
Essential oil warnings
'Oils like tea tree oil work well when applied topically.' says Quelch.
'When mixed into creams can not only be good for relieving symptoms but nourish your skin. However, always read labels on product and don't apply directly to the skin unless instructed otherwise.'
'Remember, lemon oil must never be applied to the skin, and you should never ingest any essential oil.'