Trying to do home workouts to keep yourself busy and active? If you're working from home and have limited time (you love your sleep and love the TV too), or, you're tight on floor space so can't buy a piece of home gym equipment to keep fit, don't you worry. We've found the ultimate buy to help get your legs moving, keep your them strong and work your lower body, all while sitting down. Yep, you read that right. It's a bit similar to a cross trainer – but is more of a lazy version.
This handy and compact piece of kit – the elliptical cycle – can be used while watching TV, working from home or just about anything else that requires you to sit down. It's portable, quiet and great for getting in some light daily exercise. It's also pretty amazing for helping with circulation, joint strengthening and cardiovascular function. The best part? It's just £99.99 and it can be delivered next week. Great stuff, Amazon.
So, what do you reckon? Fancy buying to place under your *makeshift* desk? What about popping it under the sofa and bringing out while binging your fave TV show?
Head over to our health and fitness page for more product recommendations and advice – we've got it all.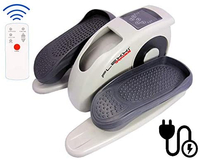 (opens in new tab)
FLEXXI POWER Electrical Motorised Elliptical Cycle | £99.99 at Amazon (opens in new tab)
This automatic machine features three different settings and movement options depending on your fitness level. The pedals – which are both sturdy and anti-slip – can be moved both forward and backwards to work different muscles. It also features a display monitor to keep track of time, distance, speed and calories burned. It's compact so when life goes back to normal you can even take it into the office with you, and, it comes with a travel case! This machine should only be used while sitting.