Gardening is a major way for players to express their creativity in Animal Crossing: New Horizons, with your entire island becoming a playground for exterior designs. You can create unique spaces for each of your villagers, themed around their likes and personalities, or get creative and broaden their horizons a little bit. Or of course, you could work to theme your entire island around a specific feel or aesthetic.
But that's not all, because the new Happy Home Paradise expansion for Animal Crossing: New Horizons is going to give you infinite chances to get creative with garden spaces. With the DLC, you're given the chance to take on a job as a Paradise Planner, someone who creates vacation properties - and accompanying garden spaces - for a range of clients, all of which will have specific wants and need for their new home away from home. You'll get to pick out and design every element of their home, from the interiors, walls, and floorings, to the shape and look of their home, and all the way through the garden too. It's a wonderfully daunting prospect you'll get to enjoy again and again.
It's particularly useful for thinking about switching up your outdoor spaces back on your island too. When designing outdoor spaces in Happy Home Paradise, you can switch to the same top-down builder mode you can use in your interiors, allowing you to play with paths, fencing, item placement and more with far more ease and convenience. Perfect for playing around without having to get out a hard hat.
With all that in mind, here is our ultimate guide to getting the most out of your garden in Animal Crossing and the new Happy Home Paradise expansion.
Flowers
Flowers and seeds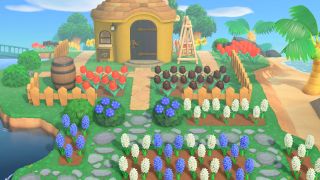 Regardless of whether you're an avid real life gardener or someone who always panics about finding that one vase when they're sent a celebratory bouquet, flowers will become your instant new obsession in Animal Crossing: New Horizons. When you first arrive on your island, you'll have native flowers already happily growing on your cliffs but there are actually eight different types available in the game. Cosmos, hyacinths, lilies, mums, pansies, roses, tulips, and windflowers can all be found, planted and watered to turn your island into a colourful smorgasbord of petals. While you'll find some new seeds available to purchase in Nook's Cranny, you'll want to visit other players to complete the set.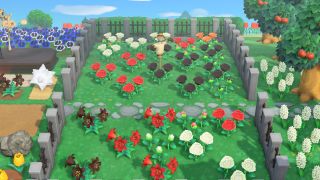 When it comes to planting specific colours though, here's where Animal Crossing's botanical offerings get interesting. While each type of flower has a number of different colours you can happily plant, there are also rarer hues available that can be grown through the hybrid process. If you have dreams of a monochrome black and white rose garden, you're going to have to start breeding your flowers. The best way to do this is to set up a fenced off area separate from your garden specifically for creating new colours. Then, plant the colours you want to mix in a chessboard style pattern for the new versions to grow in the middle. For an in-depth look at colour combinations, bookmark GamesRadar's hybrid flower guide and remember to water with your trusty watering can until the plants sparkle.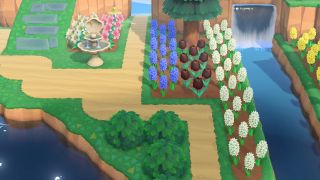 Once you have grown your ultimate selection of colours, you can start styling your garden. An easy flower bed hack is to load up the Island Designer app on your NookPhone and select the dark dirt path option. It's not necessary as flowers will grow happily on grass - and everywhere else that isn't tiled - but paint this on the ground where you'd like to plant your flowers for an instant soil look that clearly delineates your green fingered sections. Keep your flower breeds separate to keep things looking tidy but from here, the sky's the limit when it comes to design options. It's also worth remembering though that if you haven't got paved paths, you'll need to keep a shovel handy to keep new flowers in check after a day of rain on your island.
Fencing
Fencing & hedges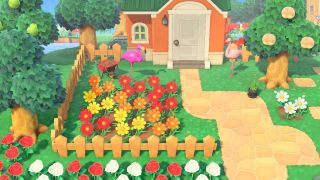 Given that it might be somewhat overwhelming at first to landscape your entire island and call it your garden, it's important to bring some boundaries into Animal Crossing. Thankfully the extensive fencing recipe options available to buy with Nook Miles mean you can seal off individual gardens in a unique style. The Simple Wooden Fence makes things that little more homely while something like the Zen Fence brings a minimalist Japanese feel to proceedings. Whichever of the many fences you choose, each one has to be crafted with resources to create 10 individual fence pieces. And the good news is that weeds even come in handy when it comes to crafting hedges.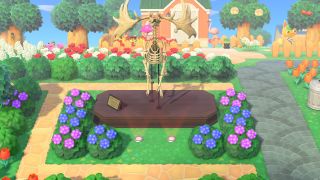 If fences and plain hedges don't really fit your style, then you'll want Leif to arrive in your plaza. This green-fingered sloth comes to town every so often to sell a variety of bushes. These are seasonal, making it possible to plant bushes that will bloom at specific times of the year. If you want a winter garden of holly bushes in a section of your island, or a colourful summer walkway as part of your garden, keep an eye on the seasonal flower options. Helpfully, when he arrives Leif will let you know what's currently in season to let you design accordingly.
Trees
Trees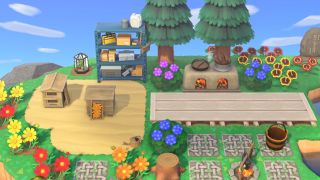 Trees in Animal Crossing aren't just for making your island look pretty with a variety of fruit. Cherries, peaches, apples, oranges, pears, and coconuts are a lucrative source of income if you're hoping to speedily pay off your loan. This means it's essential to find a garden solution that's easy on the eyes but also on your bank balance as you gradually take over the island. One solution is to use the odd tree and stump as a way to bring nature into your garden but also dedicate a separate section of your island as an orchard space. You, quite literally, might not be able to see the wood for the trees but your mortgage repayments will thank you and there's a certain joy to be found in such even lines.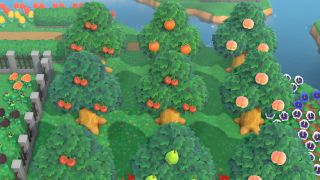 Patios
Design the ultimate patio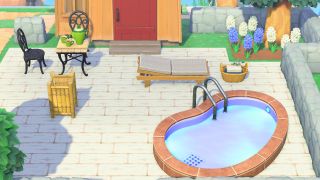 Animal Crossing might feel relaxing enough as you fish the night away or swim through its cool waters as the sun sets but a patio space is a satisfying addition to your island. Download a decking design - try one from Creator Code MA-8285-8825-5686 - and you can transform your garden into a modern outdoor escape. Place indoor plants such as the Monstera to extend your living area to the outside world and you could always make the most of summer with a well-placed pool. If you don't like your particular pool colour, other players have different hues so always check with your friends to find out the colours of the items they can buy with Nook Miles. Customise a Pool Lounger with an Able Sisters pattern for the ultimate peaceful retreat away from the hubbub of your central plaza.
Layering
Play with visual texturing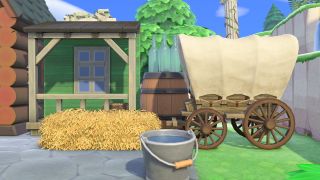 You might not be able to move the camera in Animal Crossing: New Horizons, but you can still play with depth by creating layers of items in your garden spaces to add a little more realism. Add taller things at the back, even balanced on other objects like barrels or tables, and then mix it up with lower down objects up front. Make sure you're not just putting everything on the same horizontal axis either, drag and pull objects so they're a little misaligned too so it feels more organic. You can quickly make a super effective diorama like this.
Seasons, weather, and time of day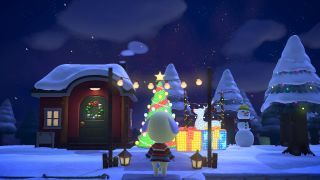 While the time of day and season on your own island is linked to your real-world situation, you can fully adjust all of those elements when creating a client's garden in Happy Home Paradise. Choose exactly the time of day you want, switch up the season, and even add weather effects to really bring your vision to life for your client. After all, the perfect Christmas grotto isn't going to pop unless you can see those twinkling lights against a snow-covered pine.
Client requests
Work with your client's requests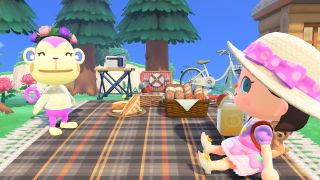 While it might be tempting to just stick with the kind of items you'd use in your own garden, there's something quite special about really working with the furniture or other accessories that your client has requested. It may not be the style you'd pick, but going outside of your comfort zone in Happy Home Paradise to bring a smile to your client's face is more than worth it. And hey, you might find a new favourite combo to take back to your own island with you.
Utilizing the space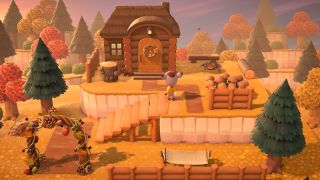 Back on your own island, it's easy to jump into and start adjusting cliffs, rivers, and ponds to create your garden space. However, on the archipelago of Happy Home Designer, you can't do any of that. The lots are locked and unique, and that adds a certain level of complexity to your garden designs that usually breeds creativity. Think well about what your client wants before picking your location, because you won't be able to fit certain items on plots with multiple layers and slender walkways.