A beautifully designed patio area is the best way to make your island feel like a real community. You can have fun creating custom patio areas for each of your villagers, and then use that knowledge to wow your clients at your job at the Paradise Planning office in the new Happy Home Paradise expansion for Animal Crossing: New Horizons. After all, how good their home looks on the outside is just as important as the inside when it comes to pleasing a client looking for the perfect holiday home.
The swathes of furniture and design options that have been added to the game since launch mean that almost anything is possible, especially when you see what the community has been creating. But where should you start when it comes to mapping out the best design? Here we break down the best decking and tiling options, outside dining offerings, and the vast offerings when it comes to garden furniture. There are even ways to make sure you don't have to fill every custom design slot in order to make one section of decking. Here's how to create your ideal patio in Animal Crossing New Horizons.
Decking or paving?
Let's start from the ground up. The first question when it comes to your perfect Animal Crossing patio is whether you want to go for more traditional paving slabs or invest some custom design slots in a decking solution. The decking pictured above (Creator Code: MA-8285-8825-5686) is a brilliant way of making things look that little bit more elevated. The designer has even produced a series of different colours to make sure you can find your perfect shade to match your house and aesthetic.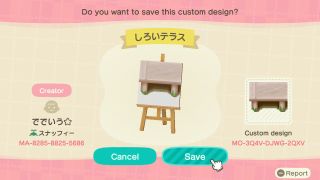 Worth noting here though is that custom decking can use up to six of your precious custom design slots thanks to specifically designed edges and the illusion of verticality. A good workaround is that some creators have helpfully designed edges for the existing paths and tiling available in the Island Designer app. The Wood Path Edge from Creator ID MA-2983-6772-8811, for instance, has specifically been designed for the wooden path already in your NookPhone, mercifully halving the number of slots you have to take up with the design. So whether you want peaceful minimalistic white decking for relaxing lazy days or something a little more rustic, there are plenty of solutions available from the Custom Designs Portal in the Able Sisters shop or the Custom Designs app.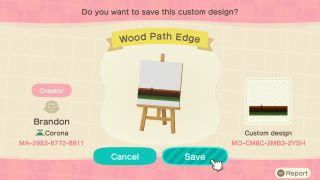 Garden furniture options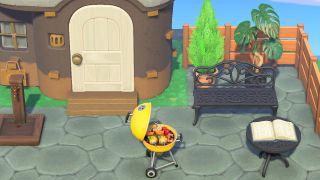 Animal Crossing: New Horizons is the first game in the series to allow us to place items and furniture outside the safety of our pixelated homes. This means a world of possibilities when it comes to creating the ultimate island getaway but also serious feelings of inadequacy the minute you take a look at Reddit. Fret not though, creating your own perfect patio furniture doesn't mean you need to sell your soul to Nook's Cranny. The best outside furniture can actually be found in DIY recipes so keep collecting the message bottles that arrive on your island's beach every day, and using Nook Mile Tickets to find more recipes on Mystery Islands.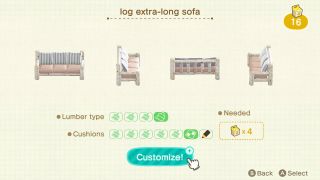 For a more traditional approach, the Iron Garden range includes a chair, bench and table and if you don't fancy its green hue, you can switch the colour to blue, white or a stylish black with Customisation Kits. If you want to go a little more rustic, the Log Garden series is another great solution and you don't need to stick to the initial brown. Not only can you switch the wood colour with Customisation Kits but if there's a cushion involved, you can edit the fabric to make sure everything matches. Even better is that you can use all the patterns you get from talking to Sable in the Able Sisters every day instead of having to use another design slot. Craft a Log Extra-long Sofa, personalise the cushions, and prepare to spend a lot of long island nights lazing on your patio.
Outside dining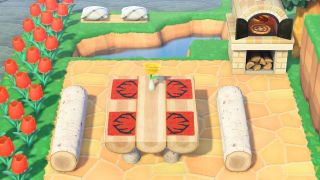 Yes, you can spend all your time lusting after the Ironwood range for the perfect Instagrammable indoor kitchen but that doesn't mean you have to neglect al fresco dining. Your ideal Animal Crossing patio can easily be transformed into a cosy dining space and there are plenty of options to add a personal touch. The place settings of the Log Dining Table can be fully customised and you can always add a touch of class with a vase containing your favourite island flowers. All you need to do is pick petals from your roses or tulips - don't worry, they'll grow back - and then choose to 'place item' wherever you'd like to add a little floral accent with an instant vase.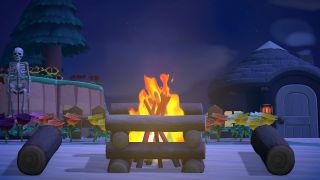 And, while you might not actually be able to eat anything other than fruit, that's no excuse not to accessorise your dining areas accordingly. Thankfully now there are cooking recipes and actual food items in-game, there are more ways than ever to customise your dining area. Don't forget to grab some Customisation Kits and you can personalise the colours of a barbeque, complete with delicious-looking skewers, and if you find the Brick Oven recipe, you can treat your villagers to the eternal smell of freshly baked pizza. The Brick Oven can also be personalised to match your choice of decking or tiles. And, if you're hankering for marshmallows, you could always settle around a cosy bonfire for the evening.
Get inventive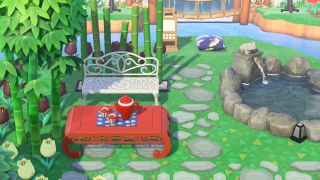 Boil it down and your entire Animal Crossing island is actually your patio. This means you can get seriously inventive with your vast green spaces but also make them feel cosy and lived in. Decorate with the partition recipes and you can make things feel significantly more intimate without having to don your construction hat and start terraforming cliffs into reality. Additions like the Bamboo Partitions or even Simple Panels can create instant walls to make your patio and gardens feel more enclosed and personal. Plus, trees, flowers and water features can complete peaceful spaces and you can even use terraforming to create a natural barrier like a river without adding endless amounts of fencing.