Whether you're buying a new appliance online or hiring a professional to help design your extension, you will be asked to accept terms and conditions. But do you really read and understand the often lengthy document outlining the terms of the contract?
A recent survey by consumer expert Which? found that 90 per cent of people have agreed to terms and conditions when buying a product or service online in the last year, but only 16 per cent actually read them. Following the launch of the Consumer Rights Act 2015 last October, which outlines that terms should be fair and transparent, the government has called on Which? to work with businesses as part of its Better Deal initiative, to simplify contracts and communicate more clearly to consumers.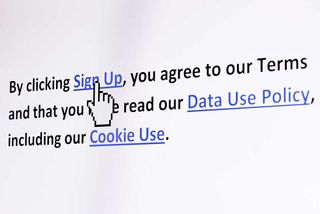 Chancellor of the Exchequer, George Osborne, says: 'A core part of securing a better deal for working people is improving transparency. The new Which? campaign will bring clarity to how businesses present terms and conditions, ensuring consumers know exactly what they're signing up to.'
The research by Which? also found that 65 per cent of consumers find terms too long, 38 per cent feel it's difficult to find the important pieces of information, while a third think they
Did you know?
Apple's iTunes Store's terms and conditions are 19,972 words long – nearly 2,000 more than Shakespeare's Macbeth, which is 18,110 words.
Got a question about your consumer rights or want to share your experiences? Tweet me @RealHomes
Read more of the latest blogs