Traditional art is making a big comeback, with design stars like Shea McGee proudly displaying their newly found enthusiasm for landscape-style oil paintings and vintage portraits. Traditional artworks can help create a completely bespoke look at home that can't be achieved with mass-produced prints, but do you have to pay a fortune to curate your own collection of traditional paintings at home?
Actually, it's perfectly possible to find gorgeous traditional artwork for under $100 –we explain how to do this, in collaboration with Ebay.
1. Know what you're looking for
Traditional art is basically art that hasn't been digitally reproduced, with the terms typically referring to paintings. There's a range of painting types, so if you're not sure what you like, you may well want to visit a gallery first – oil paintings look quite different from watercolors, for example.
You'll also need to decide if you're buying traditional art purely for pleasure or potentially as an investment to pass down to family members. If it's the latter, then expect to pay more; Ebay searches will often come up with regional gems that can be quite valuable, so do your research if you want your painting to be worth something in the future.
2. Get your online search term right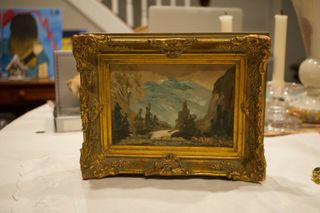 Often getting a great deal on traditional art is largely down to nailing your search term online. You're much more likely to find affordable pieces if you use terms like 'framed landscape painting', 'plein air painting', 'vintage plein air painting', or 'vintage portrait' than searching for 'antique paintings', for example. A more general search is best: if you're looking for a particular time period, you're likely to get more expensive results. The less specific you're prepared to be, the more likely you are to find an artwork at a good price.
3. Check if you're getting the frame too
Frames can be expensive in their own right, and finding a contemporary frame that will look good with a vintage artwork can be tricky. Always check that you'll be getting the original frame and watch out for disclaimers like 'frame is for illustration purposes only.' If damage to the frame is mentioned, carefully check the photos and confirm with the seller that the frame is still usable.
4. Don't worry about names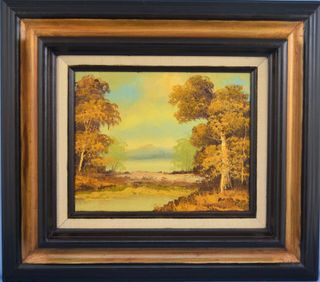 Unless you're after a specific artist, it really doesn' matter that much who the artwork is by: if you like it, that's all that matters. Some sellers will bump up the price because the painting is by a locally known artist, but you should only pay more if it's to your taste.
5. Check the condition – and read a seller's reviews
Last but not least, when buying traditional art, you need to have the full information on its condition. If it's older than 20-50 years, you'll want a detailed description and multiple photos of the condition of the canvas, as it can disintegrate over time. Even if it's inexpensive, you want your artwork to last a good while yet!