Whilst shades, textures and metallics are all having their moment within interior design, colour in the kitchen has arguably been THE major trend of 2020. Whether it be splashes of colour from smaller items such as toasters or chairs, or accents such as bright brassware, people are increasingly looking beyond traditional colours such as black and silver to opt for more daring options.
So, if you're thinking about how to bring colour into your kitchen, one of the first things you need to do is ask yourself 'How bold do I want to be?' and go from there. Having a striking appliance, for example, can be a viable alternative to statement worktops or cabinetry. Range cookers provide the perfect opportunity to add colour to the kitchen and are available in a wide selection of shades; from sunshine yellow to black and everything in-between.
Bertazzoni designers found their inspiration from the company home in Emilia-Romagna with its landscape, rolling fields and sunshine, for the range of colours on offer including giallo (yellow), arancio (orange), burgundy and nero (black). See how a beautiful new oven or range cooker could be the starting point of your kitchen colour scheme, with these styling tips from Bertazzoni.
Traditional vs modern colour choices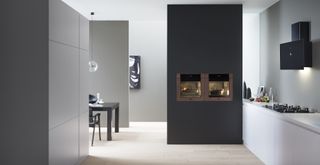 As with any interior design choices, it's always down to personal tastes and preferences. Traditionally, a classic kitchen will follow a neutral colour palette, with simple detailing. Cabinets painted shades of white, grey or blue are also a common theme in this style.
A contemporary kitchen, on the other hand, will include modern touches such as decorative lighting, along with bold colours and materials such as copper and stainless steel. Finer details such as knobs and handles add a point of difference, too.
Regardless of the 'scheme' though, you should focus on timeless designs that can be appreciated for their beauty long after the life cycle of the product has passed. Products and finishes will evolve over time and the 'in vogue' colours of the day will change; however, the right products will stand the test of time.
Using colour as a focal point with a range cooker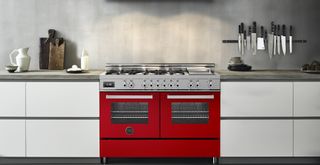 For appliances, colour should be used carefully so that the chosen shade works both up close and as an accent to the rest of the room. Positioning is key, too. Range cookers are made to provide a focal point, so should be sited centrally, where possible. This also makes them better suited for use – easily accessible from the fridge, sink and your prep stations.
The beauty of a range cooker though, despite its unique aesthetics, is its versatility. Offering various widths, single or multiple ovens and gas, induction or teppanyaki cooktops, there are few kitchens that can't benefit from a range cooker, making it the most popular statement appliance.
Use built-in ovens for a colourful feature wall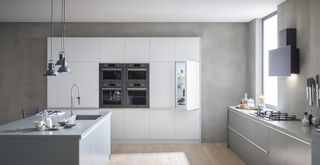 If being the centre of attention is not your thing, work some colour into your kitchen with a feature wall or feature colour. Pair this with expertly designed built-in ovens in subtle but stunning colourways and you have a focal point that can be easily adapted should you want to paint the wall a different colour.
White and black appliances with metallic accents are a great choice that will work well with any colour you choose. Follow the latest trend for dark and inky kitchens, or keep it light and bright with a blue, yellow or even blush pink colour scheme. Striking copper metalwork or high-shine chrome will dazzle, adding that little bit of interest in a high-design way.
Look for fine finishes
A statement appliance should be an investment that is built to last. You don't want a surface that will mark easily or lose impact over time. Look for real metal and durable coatings that will stand the test of time.
Creating an opulent, precious finish that brings a subtle and refined finishing touch to any contemporary kitchen, is painstaking and time-consuming, requiring fine attention to detail. As luck would have it, Italy is renowned for its artisan metalworkers and Bertazzoni has brought their centuries of expertise to their appliances to create striking and hardwearing appliances built by hand by skilled craftsmen.
As every aspect of the process is made by hand using traditional methods, no two ovens are the same. As unique and individual as pieces of fine art, they beautifully display the hand and unique skill of their talented makers.
About Bertazzoni
Bertazzoni, a family-run business established in 1882 and with fifth and sixth generation family members at the helm, never forgets that its roots are in the traditions of Italian flair.
The brand name is now synonymous with design excellence across the globe, thanks to its dedication to stylish, quality and functional appliances.
Valentina Bertazzoni, style and communications Director at Bertazzoni, said: "As an Italian company built on land, family and engineering we truly believe in the power of cooking; it can forge friendships, be an expression of love and bring people together. A beautiful meal cannot be made with a bad appliance. This is always our starting point.
"We begin by envisaging a product and create it for the sole purpose of producing beautiful food. Especially with appliances that are used every day it's essential that they are robust enough to withstand the pressures of constant usage."
To find out more about Bertazzoni read more on its beautiful, coloured appliances.