When buying a new oven, you might already know what fuel type and colour you want. Perhaps you have set your heart on a huge range cooker with three ovens and a warming drawer or have the exact capacity and dimensions specified for a full roast dinner with all the trimmings? Well, no matter how far you have got with choosing your dream oven, we suggest you pause and read this first. We've teamed up with appliance experts Fisher & Paykel (opens in new tab) to share five features we think you really should consider before you buy your oven. From time saving functions, to cooking programmes that will make your food taste amazing, these are things that, now we know about them, we don't think we can live without.
1. An oven that cleans itself
You read that right. There really are ovens that can clean themselves. The technology is no longer in its infancy, but so many people are missing out on the wonders of a self-cleaning or pyrolytic oven. These use extreme temperatures to blast any food residue into ash. From burnt-on cheese, to greasy stains that won't shift with scrubbing, pyrolytic cleaning banishes the lot. You just need to wipe or sweep any ash away after the program runs. Easy and time saving – we'll take it!
2. The option to cook healthier food with steam
Steam ovens offer much more flexibility than a conventional oven and are a great addition to households where healthy eating is on the agenda. A steam oven can cut the need for cooking in fats and oils as it will optimise the cooking of food in its own juices. As well as making healthier roast meat and fish, some steam ovens give the option to sous vide, trapping in moisture for the most succulent joints and more. Fisher & Paykel steam ovens offer the choice to cook with both humid and dry heat so you can switch to normal cooking methods whenever you want.
3. Telescopic shelves
Never battle with a heavy roasting tin again. Telescopic shelves help you remove and put food in the oven safely without the risk of burning yourself on other shelves or the door. They also make checking the progress of your meal much easier as you can quickly slide the whole shelf out, rather than having to peer into the oven. This makes basting, temperature checks and turning roasted foods for even cooking a breeze, too.
4. Moisture control
Some of our favourite oven cooked meals actually need a variety of cooking styles to make sure they are crispy on the outside and tender on the inside. This is usually achieved by the chef having to constantly monitor the food, adding extra moisture (in the form of oil or stock) or draining it away throughout. And while the results may be worth the faff for that fall-off-the-bone roast meat everyone talks about, there is an easier way. An oven with moisture control can retain and release moisture just when it is needed, keeping your roast juicy yet well browned. Look for Fisher & Paykel oven models (opens in new tab) with ActiveventTM to make the most of this technology and save time spent tending to your meal.
5. Recipe function
For an even more hands off cooking experience, look for an oven with recipe settings. As you might have guessed, these are pre-programmed with popular recipes, functions and ingredients and the oven will set the right time and temperature to cook that meal to perfection. Whether you are a beginner cook learning the ropes, or an expert chef looking to save time on your go-to recipes, this function offers an intuitive, guided cooking experience. In a multigenerational household it could be just what you need to give every family member cooking confidence – you can set some of your favourite recipes and leave older kids in control to give them a go.
All you need to do is use the touchscreen interface to select the right food, weight, tell the oven whether the food is whole or in pieces and let it know if it is cooking from frozen. You can save regularly used personalised recipes (and their full settings) to a list to save time choosing them in future. This really lets you leave your oven to it, while you focus on prepping the accompaniments – or perhaps simply choosing the perfect wine pairing instead...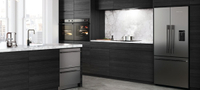 (opens in new tab)
Receive up to £1,000 cashback at Fisher & Paykel (opens in new tab)
Buy your appliances from Fisher & Paykel or participating retailers and get up to £1,000 cashback. Cashback starts from £300 if you spend £3,000 or more with those spending more getting the chance to have 10% of their spend back in cash.