The best curtain rods not only keep your curtains secure, but they should also bring a style that complements your space. We've found great curtain rods for indoor and outdoor use, with included hardware or tension support that can be put up in seconds.
These curtain rods are adjustable, meaning every window size is covered. We've also included single and double rods, which can keep your blinds in place and heavier curtains drawn during the day. Our top choice is the Kenney Chelsea standard curtain rod. It has a classic look and comes with all the hardware you need to put it up. For this and more of the best curtain rods, keep reading.
Single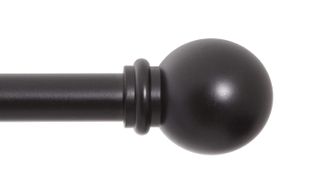 Fits standard windows
A classic look at a reasonable price.
Pros:
Classic and simple
Reasonable price
Adjustable
Comes in a range of colors
This metal curtain rod features round, resin finials on either end to give a decorative finish, as well as help keep curtains on the rod. The rod itself is just over a half-inch thick and can be adjusted between 28 inches and 48 inches long. This is long enough for hanging across most standard windows. The Kenney Chelsea curtain rod includes all the hardware needed to hang it, including three brackets for extra strength and sturdiness.
Double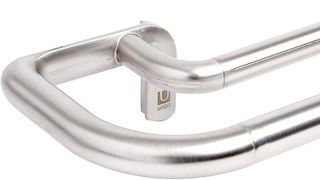 Hang curtains and shears together
This sturdy double rod can handle the heaviest curtains.
Pros:
Double rods are attached
Made of sturdy metal
Huge range of sizes
The double curtain rods of the Umbra Twilight are attached together, so you don't need to fret about lining up two separate rods. The outside rod holds heavier and more colorful curtains while the inside rod is designed to hold sheer panels. The Umbra Twilight is made from metal to avoid bending and it comes in three different sizes that range from 28 inches and 144 inches. Each of the rods loops around on the ends and connects to the brackets.
Extra long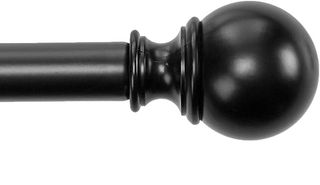 Perfect for bay windows
Comes with three adjustable brackets.
Pros:
Suitable for the widest windows
Three color options
Holds up to 22 pounds
This curtain rod from Amazon Basics extends up to 144 inches, which is 12 feet and long enough to hang curtains over bay windows and extra-large picture windows. This metal rod will hold up to 22 pounds, so it's good for curtains made from thicker materials or for hanging tapestries. Each end features a round finial, which is a basic design that matches most room décor. The AmazonBasics curtain rod comes with three adjustable brackets, so you can decide how far away from the wall you'd like your curtains to hang.
For style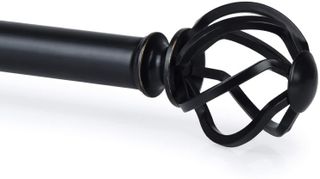 This curtain rod has a chic twisted cage finish
Available in 28-inch to 144-inch dimensions.
Pros:
Adjustable brackets
Plenty of variety in size
Sturdy
The KAMANINA 1-inch curtain rod looks great, with a twisted cage finish in two finishes. It's sturdy too, with a weight capacity of up to 22 pounds. The telescoping structure can extend from 72 to 144-inches, and it's available in a variety of sizes including 28 to 48 inches and 48 to 86 inches. The adjustable brackets allow you to extend your curtain rod forward, creating space for anything behind the curtain or laying it flat against your window.
Tension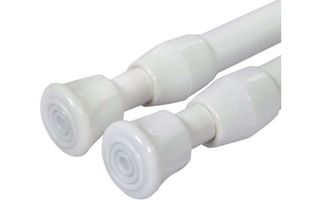 No hardware needed
Install in seconds.
Pros:
Easy to install
Extendable
No hardware required
Tension curtain rods hold curtains inside window frames and don't require any hardware to install. Instead, the rods use a spring mechanism to keep curtains in place. The AIZESI spring tension curtain rod comes with two rods that can extend between 28 inches and 48 inches. The rods are made of stainless steel but are coated in white paint for a smooth finish. The ends have non-slip runner covers that help stick to the window frames and prevent scuffing. Though these rods are built well, they aren't designed to hold heavy curtains. The manufacturer recommends lightweight materials that weigh less than 6 pounds.
Adjustable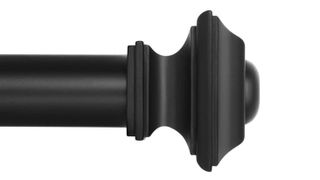 Holds thick drapes
An eye-catching look that can hold the heaviest of curtains.
Pros:
Hardware included
Looks great
Extra thick
Cons:
Buy curtain rings separately
The Ivilion drapery treatment curtain rod is extra thick to hold thick draperies. You can use this curtain rod on its own, or purchase matching curtain rings that clip to your curtains and make it easier and smoother to open and close the drapes. The hollow rod is made from iron while the square-shaped finials on each end are made from resin. This gives the rod a more traditional look compared to round finials and isn't as common. The Ivilion curtain rod comes with all the hardware you need to hang it, including brackets, anchors, and screws.
Decorative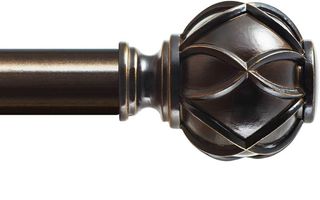 Unique netting design
An elegant look that can support up to 22 pounds.
Pros:
Unique design
Can be extended
Heavy capacity
This single curtain rod features finials with a unique, netted design to give your home a little bit extra without being too bold or overdramatic. The rod is made from metal and comes in three sections. You can use all three or just two, depending on the length you need. This curtain rod extends up to 144 inches total. It will hold heavy curtains up to 22 pounds, while still looking simple and elegant holding just a valance. The KAMANINA curtain rods come with drywall anchors and adjustable brackets.
Heavy-duty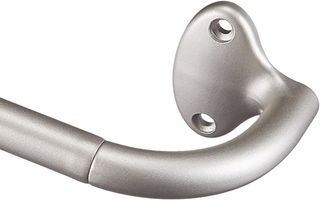 Keep the room dark
Curved ends block out every bit of light.
Pros:
Smart curved design
Easy to install
Multiple colors
The AmazonBasics room-darkening curtain rod adjusts between 28-inches and 48-inches long. The entire rod fits together rather than requiring a rod to sit on brackets. This means the rod has curved ends and is perfect for pulling drapes around and closer to the walls to block out more light. This makes the rod a good choice for room darkening curtains. The rod is just over a half-inch thick and will hold curtains up to 20 pounds. It's available in three finishes, and hardware comes with the rod.
Outdoor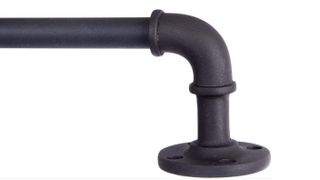 Good for pergola shades
This rust-resistant curtain rod will look great indoors or out.
Pros:
Industrial look
Rust-resistant
Wrap-around ends
Cons:
Lots of drilling required
For sunrooms or pergolas, the Kenney Adler curtain rod is a good choice. The wrap-around rod is made from heavy-duty steel and is designed to be mounted to a wall or the ceiling. It comes in either a black or brushed nickel finish and looks like a single, solid piece, though it really is a telescoping rod that adjusts up to 48-inches long. It has a neat, industrial look to it and can be used indoors as well as outdoors. The wrap-around ends make it a good choice for room darkening curtains.
Hung up on curtain rods? Here are our recommendations
Why you can trust Real Homes Our expert reviewers spend hours testing and comparing products and services so you can choose the best for you. Find out more about how we test.
The Kenney Chelsea single curtain rod is the best curtain rod you can buy. It's adjustable and very affordable, meaning any space can be transformed easily. If you want a double rod, you should check out the Umbra Twilight. It also has curved edges that will allow you to pull curtains flush to the wall and block out all light. Another great curtain rod for darkening is the aptly named Amazon Basics room-darkening curtain rod, which has this same curved feature. Suitable for both indoor and outdoor use, the Kenney Adler curtain rod is also curved.
The AIZESI spring tension curtain rod is the easiest to install in our guide because it uses tension to stay in place. It's not suitable for heavier curtains though. If you want something more heavy-duty, check out the Ivilion curtain rod or the KAMANINA 1-inch curtain rod. Finally, for large bay windows, we suggest the Amazon Basics 1-inch curtain rod.
Why trust us?
At Real Homes, we recommend the best products to enhance your life. As expert curators, we handpick products based on quality and usefulness to positively impact your day-to-day, from cart to doorstep. We take our responsibility seriously — testing products, reading reviews, and sourcing knowledgeable outlets to ensure our selections are worthy of your time and money.
We deliver detailed product overviews, balancing objective information with subjective opinions, so making the best choice for your home and lifestyle is as easy as possible.