We spend a lot of time in our bedrooms. It's where we sleep, watch movies, and relax, among other things. Over the course of the events of the past year, the space has become even more important.. Maybe we had to cancel those vacations and trips to visit family and friends that we were planning and instead retreated to the sanctuary of our bedrooms to relax … unless, of course, we were stuck staring at a boring set of bedroom furniture and lackluster decor.
If you're ready for a new look for your bedroom, eBay is the first place you should look. They have everything you could want, no matter your style.
The contemporary look has a simple, clean feel to it. The goal here is neutral colors like greys, black, and white with strong, bold lines. Don't worry about adding too much to the walls here because the contemporary style tends to keep the walls more bare.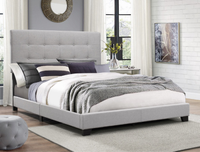 Shop contemporary bedroom furniture on eBay
Contemporary style furniture has a very pared-down feel to it. Think: Crisp lines and strong, neutral colors like grey, blue, black, and white. Find the perfect contemporary bedroom set on eBay.
Shop now: Beds / Night Stands / Dressers
Less is more when it comes to contemporary decorating, but while your furniture should certainly complement the rest of the space, it's certainly ok to have pieces that stand out and tell their own story. This brings personality to the space. Bare legs on sofas and chairs is perfectly ok so don't worry about fringes, tassels, or skirts.
For a mid-century modern style bedroom, you'll want to look for pieces that have a 1950s flair to them, hence the term "mid-century". Natural materials are big here. Platform beds were popular then so that's always a good choice and exposed, tapered legs were common as well. When it comes to mid-century modern bedroom furniture, think lots of wood, clean lines, and straight edges.
Look for things with primary and secondary color schemes but nothing bright or flashy. Subdued and subtle blues, yellows, and greens are the way to go to keep the look from feeling too retro. Wood is definitely on display so feel free to use it throughout the room.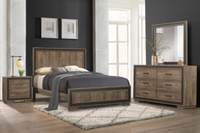 Shop mid-century modern bedroom furniture on eBay
If you want a more mid-century modern look, think wood, subtle curves, and soft colors. Keep things interesting with cool geometric shapes as well for the perfect mid-century modern bedroom.
Shop now: Platform beds / Night Stands / Dressers
When looking at a traditional style bedroom, think Downton Abbey. This is where you'll find wood paneled walls, big, four-poster beds, and plenty of throw pillows. The idea here is symmetry and comfort.
Traditional furniture is meant to evoke a sense of elegance and sophistication without being too stuffy or formal. Most traditional bedrooms have warm, muted colors but feel free to think outside the box. It's your bedroom after all.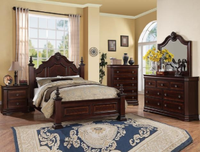 Shop traditional bedroom furniture on eBay
A traditional style bedroom set is all about elegance and comfort. With plenty of pillows, lots of warm colors, and symmetry, it's a great look for those who want a more classic style.
Shop now: Beds / Night Stands / Dressers
Whether you're going for a more contemporary look or you're more of a mid-century modern type of crowd, eBay has a huge selection of whatever you need to upgrade your bedroom.
Everything you buy is backed by eBay's Money Back Guarantee so if the time you bought is incorrect or doesn't match the description, eBay will work to make it right.
To say this year has brought a lot of changes is a pretty big understatement, but they haven't been all bad. Many companies are switching to a full time work-from-home model, freeing up a lot of people to finally be able to move and live where they want too, and finally complete that perfect bedroom setup they've been looking for.
Summer is coming and there is a light at the end of the tunnel. After a year like the one we've all had, maybe a refresh of your bedroom is just what you need.