A house with plants is a happy house. They can purify our air, help us focus, reduce stress, and even, according to research from Kansas State University, help us heal more quickly – that's a lot of good for such a small addition! But if you're new to indoor gardening, it can be difficult to know where to start, so we've rounded up the best indoor plants to give you a good starting point. After all, you know what they say – from little acorns...
Even putting aside the science for a second, there are lots of reasons to treat your home to some indoor plants. They're among the most inexpensive home accessories you can buy, and while they obviously need a bit more looking after than a vase or rug would, it's often very minimal. Desert plants such as succulents are incredibly hardy and useful for the chronically forgetful, as they only need watering very rarely, and look beautiful all year round. However even if the plant you like the look of does require a little more TLC than most, looking after plants can be very rewarding, and quite the relaxing little ritual.
If you don't have many suitable areas in your home to give a real plant the sunlight or consistent temperature it needs, have mobility problems that prevent you from getting to regularly water or feed it, or are just absolutely convinced that with the best will in the world you'd end up killing it, artificial plants are a viable alternative. Of course, you can't expect them to up the oxygen level in the room, but these days many of them look suspiciously realistic, so you can still achieve the look you're after. You also know that an artificial plant is as big as it's going to get, so no worrying about what to do when it starts to take over the house, Little Shop of Horrors-style.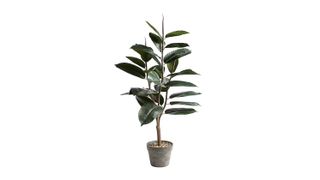 1. Rubber Tree
"Oops there goes another rubber tree plant…"
Specifications
Best for: Glossy foliage
Type: Artificial
Height: 98cm
Care level: Very easy
Position: Anywhere
Reasons to buy
+Trendy tropical+No need for special conditions
Reasons to avoid
-Won't get any bushier
These days, you're never more than six taps away from a photograph of deep green, glossy foliage, artfully filtered and thoughtfully hashtagged. Simply put, there's a huge trend right now for tropical-look foliage bursting out of every corner of the house, but unless you have a private gardener it can be hard to keep track. Enter this fabulously Insta-ready artificial rubber tree, with its realistically textured stem, large, lush leaves and on-trend concrete-look pot. Its considerable size makes it a real statement and its evergreen foliage will be abundant year round and – only you and we need know why that is!
2. Hanging Artificial Plant
When shelves and window sills won't suffice, take to the ceiling
Specifications
Best for: Those who've run out of surfaces
Type: Artificial
Height: 78.7cm
Care level: Very easy
Position: Anywhere
Reasons to buy
+Something a bit different+Won't make a mess watering
Reasons to avoid
- Doesn't look too realistic close up
Run out of available surfaces to accommodate your maximalist decorating tendencies? We hear you. This hanging planter can be hung from the wall or ceiling for an unexpected touch of greenery, and best of all, it's artificial, so no overzealous watering – inevitably resulting in drips on the carpet – needed. It may not be the most convincing up close, but its delicate strings of variegated faux foliage are unbelievably pretty, and the DIY look of the rope and concrete-look planter is absolutely on-trend.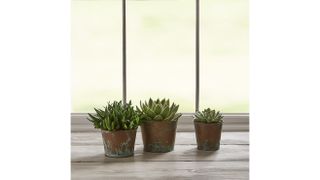 3. Succulent Trio
This spiky little trio makes a great gift
Specifications
Best for: Easy to look after
Type: Real
Height: 20cm
Care level: East
Position: Bright but indirect light
Reasons to buy
+Very low-maintenance+Attractive containers
Reasons to avoid
-Full shape makes them a bit tricky to water
It's hard to say whether the internet is more obsessed with the monstera deliciosa, below, or super-trendy succulents. Whatever the case, while it's impossible not to root for both, we think this trio of succulents has the edge for small spaces and student bedrooms. The mix of leaf shapes and shades of green adds visual interest, as do the elegant copper pots, with their rustic duck egg blue patina. Low-maintenance and lovely, these would make a lovely gift.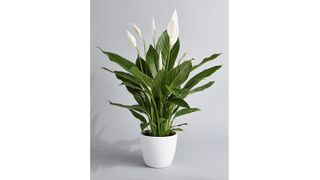 4. Peace Lily
Peaceful, purifying and elegant, the peace lily is a classic choice
Specifications
Best for: Air purifying
Type: Real
Height: 85cm
Care level: Easy
Position: Medium to low light
Reasons to buy
+Beautiful-looking plant+Adapts well to low-light conditions
Reasons to avoid
- Need dusting occasionally
With their shapely pleated leaves and striking white "flowers" (actually a specialised leaf bract – who knew!) peace lilies have long been a favourite go-to houseplant for their good looks and air-purifying properties. They're surprisingly low maintenance, far more tolerant of underwatering than overwatering, and happy with ample light or the bare minimum, although those kept in low light will be more foliage- than flower-heavy. It's also worth keeping in mind that lilies are toxic to cats, so make sure they're kept in a closed room out of reach of curious kitties.
5. Botanique Workshop Calathea Ornata
Stripy and striking, the foliage on this one speaks for itself
Specifications
Best for: Tropical vibes
Type: Real
Height: 15cm
Care level: Easy
Position: Bright but indirect light
Reasons to buy
+Fantastic foliage+Contemporary concrete pot
Reasons to avoid
-Needs a bit more TLC than our other picks
This zebra-like calathea ornata from Trouva is most easily distinguished by its colouring – white to pale pink stripes on the dark green leaf surface with a blush of deep pink underneath – making for a striking addition to any home. The pale concrete planter adds a hint of industrial chic to proceedings, making a pleasing juxtaposition with the vibrant foliage, and like the peace lily, the calathea has great air purifying properties. Simply place it in a reasonably cool area away from fluctuations in temperature, in not-too-bright light, and mist occasionally to keep it happy.
6. Ficus Tree in Ceramic
The ficus is a firm favourite, and it's not hard to see why
Specifications
Best for: Elegance
Type: Artificial
Height: 15cm
Care level: Very easy
Position: Anywhere
Reasons to buy
+Neat, variable coloured foliage+Simple, elegant pot
Reasons to avoid
- Not the most realistic-looking
As far as houseplants go, they don't get much more traditional or elegant than a ficus. There's something about that single trunk and abundance of lush leaves that keep plant fans coming back to them as a staple, and this artificial ficus is easier to look after than most, not least because it won't go wild and spread the second you turn your back. On very close inspection the individual shoots aren't the most realistic looking, but the trunk looks very handsome for an artificial, and the variation of leaf colours is a nice touch.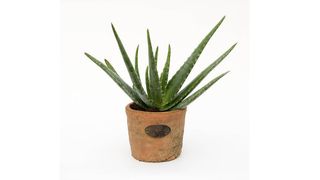 7. Barbados Aloe
This healing plant looks good and does good too
Specifications
Best for: Uses
Type: Real
Height: 30cm
Care level: Easy
Position: Bright but indirect light
Reasons to buy
+Low-maintenance, handsome plant+Gel can be used to treat burns and scrapes
Reasons to avoid
-May regret chopping bits off
Every house inhabited by children – or accident-prone adults – needs an aloe in it, and this Barbados aloe is as good a cultivar as any for its soothing properties on burns, cuts, bruises and scrapes. Unfortunately it's so lovely that you'll be loathe to snap bits off to get to the healing gel inside, with its plush green serrated fronds, delicate variegation and serrated shape. If you're lucky, you may get a tubular yellow-green flower in the summer, but that foliage is lovely enough by itself.
8. Variegated Snake Plant
It might have a tongue-in-cheek name, but it's a real softy when it comes to care
Specifications
Best for: Virtually indestructible
Type: Real
Height: 40cm
Care level: Easy
Position: Bright, some full sun
Reasons to buy
+Near-indestructible+Doesn't spread much
Reasons to avoid
- Doesn't respond well to overwatering
Cheekily nicknamed 'mother-in-law's tongue', this sharp-ended plant has gorgeous variegated leaves that would add loads of interest to any shelf or windowsill. As the name suggests, it's pretty feisty, and almost impossible to kill, so if you're looking for the best houseplants for beginners, this is a good place to start. It's also ideal for small spaces, as it doesn't spread out and is rigid enough not to flop under its own weight as it grows – just be sure not to over-water it, and you'll be rewarded with a hardy, handsome plant.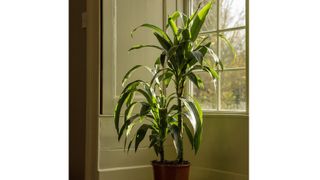 9. Dragon Tree
Low-light lovely with a tropical look? Enter the dragon tree.
Specifications
Best for: Height
Type: Real
Height: 100cm
Care level: Intermediate
Position: Light shade, close to a window
Reasons to buy
+Softer effect than normal dragon tree+Tall and slim; sits happily in corners
Reasons to avoid
-Doesn't look like a traditional dragon tree
You might be tempted to inject a little drama into a living room or bedroom with a fierce-looking dragon tree, but not fancy the thought of sticking yourself every time you go to water it. That's where this slightly softer cultivar comes in: its elongated leaves are a little like an elongated peace lily's, still striking, but with less spiking. It responds well to low light areas such as hallways, and its "upright habit" (plant person speak for "growing tendency") means it won't interrupt your flow as you bustle past.
10. Small Cheese Plant in Ceramic
Say cheese! This trendy plant adds Insta-kudos to any space.
Specifications
Best for: Decorative foliage
Type: Artificial
Height: 31cm
Care level: Very easy
Position: Anywhere
Reasons to buy
+Super trendy+Won't get too bushy
Reasons to avoid
-Stems aren't very realistic-looking
The Swiss cheese plant (or monstera deliciosa, to be formal) might be among the easier plants to care for, but if you live in a particularly chilly house or don't have any spots free to give them the gentle sunlight they prefer, this blogger-beloved plant might be more sensible in artificial form. With just enough variation to look natural, but none of the raggedy edges you can sometimes get on a real monstera, it's a gorgeous-looking and very contemporary addition to any space.