Extension design considerations don't just cover how the extension's interior will look when completed; it also encompasses details such as the roof's structure and height; the exterior materials used; door and window construction; and the extension's footprint. Here, we cover everything you need to know about the practicalities – and, the fun bit, the extension's aesthetics.
Designing your extension's structure
Jump straight to the section that interests you
It's important to ensure that your extension's design suits your needs during the planning process, as it can be costly to make changes further down the line. There are many options to consider, including:
The extension's footprint
There are few limits on the size of your extension's floor area unless it's likely to cover more than half the garden (including any existing extensions and outbuildings). However, bear in mind that any extension that does swallow up a significant proportion of usable garden space may affect your home's future saleability.
The height of your extension
You're not normally allowed to build higher than the existing house. However, side-extension roofs and walls often need to be set back slightly from it (perhaps by 10cm to 15cm). Ensure that your extension's roof design flatters that of the original house – whether through matching materials, echoed roof lines or even through contrast. This part of your extension's design will be looked at closely by planners.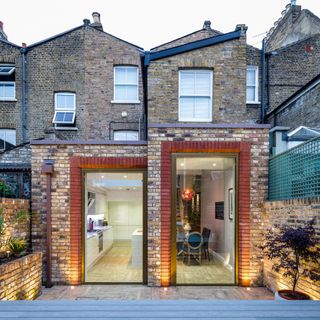 Matching your extension with your existing home
'There are no hard-and-fast rules on what materials will be accepted by the planning office. It depends on the building, the area, local planning policy, and you – the homeowner,' says Hugo Tugman.
'It used to be that planners generally wanted extensions to be in keeping with the original building, which led to a rash of pastiche additions to older buildings, but these days there is more and more of a prevailing view that allowing an original building to be itself.
'Contrast does not have to mean shiny modern or hi-tech. It is generally a good idea when extending an old building for the extension to play a quieter role to that of the original building, and it is quite possible to produce a relatively contemporary design that is modest and calm in its expression.'
Consider the transition between an existing building and a new extension
Renovations expert Michael Holmes suggests the following:
Maximise the opening
The wider and taller the opening that links the two spaces, the more they will feel like a single room.
All new openings will need to be spanned by joists, usually steel, to support the walls and floor above. The joist size and its supports should be calculated by a structural engineer (you can find one via the Institute of Structural Engineers at istructe.org). The smaller and less visible these elements, the more seamless the flow between old and new. In most instances it is possible to conceal the joist within the ceiling void, especially if you're removing only a non-load-bearing partition wall.
Create a continuous ceiling level
The ceiling height between old and new spaces should, ideally, be the same. If they're different, however, the higher ceiling can often be brought down by adding new battens and plasterboarding over the top.
There is no minimum ceiling height under the Building Regulations, other than above staircases, but 2.3-2.4m is standard. If this is not a practical solution, then it is best to have a smaller opening with a boxed bulkhead to conceal the step-in ceiling levels.
Make sure the flooring is laid at the same elevation
When setting out floor levels for an extension, it is important to work backwards from the finished floor level in the existing property to ensure they will be identical once they're linked.
When you're remodelling, rather than extending, any differences in floor level can be overcome by building up – often using a quick-setting silicone floor screed. If the same level can't be easily achieved, it is best to create a full step, (H)19-22cm, rather than a small difference that could end up being a trip hazard for children.
Use matching finishes
Old and new spaces can be linked seamlessly by using the same flooring material throughout. This principle also applies to the same architectural detailing such as windows, doors, skirting, architraves and coving; and the same décor, including colour schemes, flooring, curtains and furniture.
How to create an open-plan living space
'Open-plan or, more frequently, semi-open-plan living, is very popular, as it suits most people's modern lifestyle and enhances the sense and use of space within the home,' says Hugo Tugman. 'I do generally encourage people to go this way; however, there are a number of things to bear in mind when working out how best to use the space.
'It's usually a good idea to identify different zones within your layout — such as the kitchen, dining and living areas. The look and feel of your space can be fine-tuned by the extent to which the boundaries of these are defined or blurred, and there are lots of devices, such as continuing through or changing the floor finish, for example, which can control this degree of separation.
'While walls can block up an open space, they can be helpful when it comes to positioning furniture, storage and radiators, for example. One of the reasons that underfloor heating works so well in an open-plan space is because often there are not enough suitable walls on which to position radiators.'
Use our guide to creating an open-plan living space for more tips and inspiration.
Choosing bi-fold and sliding doors for your extension
Click to go to the section that interests you
'There are a range of different options available for bi-fold doors, from two-door models through to large eight-door configurations, set-ups for bay arrangements and entire 90-degree corner sections,' explains Neil Ginger, CEO at Origin. 'The price of bi-fold doors varies but, as a guide, a bespoke, aluminium design would cost from £1,200 per door leaf.
'The space allowance for the doors to open outside depends entirely on their width. Bi-fold doors can be as narrow as 40cm, protruding less than half a metre outwards, while you will need to allow just over a metre of space for doors with a width of 1.2 metres.
'Doors that open inwards are ideal for projects where space outside is limited — on a balcony, for example. In the majority of cases, it is recommended that outward-opening doors are chosen to prevent any rainwater from coming into the home when the doors are opened after it's been raining.'
Bi-fold doors can also be installed internally, as the low threshold of the design can create a seamless transition from one room to another.'
Find out more and get inspiration for your extension with our guide to bi-fold and sliding doors.
<< Extending a house: planning
More extension and renovation design help: