Urban and suburban gardens, in particular, are often be small spaces, whether they are boxy, irregularly shaped, flat or sloping. But there are many tried and tested design solutions to make a small garden feel much larger than it actually is. We cover everything from layout tricks to choosing plants and garden furniture.
1. Plan proportions
Huge features in a small garden will dwarf the space and make it feel cramped. Instead of a large garden water feature, for example, a modest wall-mounted spillway or spout will be more in proportion. Likewise, an outdoor dining set to seat four people, rather than 12, will work better visually. But don't miniaturise everything, such as pots, plants and paving, as oddly this will make it feel smaller still.
2. Keep the layout simple
Don't overcomplicate the layout and garden design details. Fussy curves and intricate hardscape look odd in small gardens and will always make them feel smaller. Instead be bold, and remember the maxim 'less is more', especially in awkwardly shaped gardens. Where space is tight, you simply won't be able to accommodate everything, so be prepared to compromise. This may sound obvious but is often forgotten as enthusiasm for an idea takes over.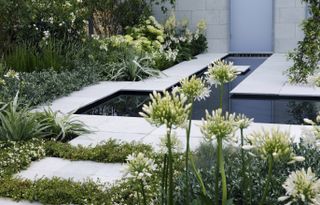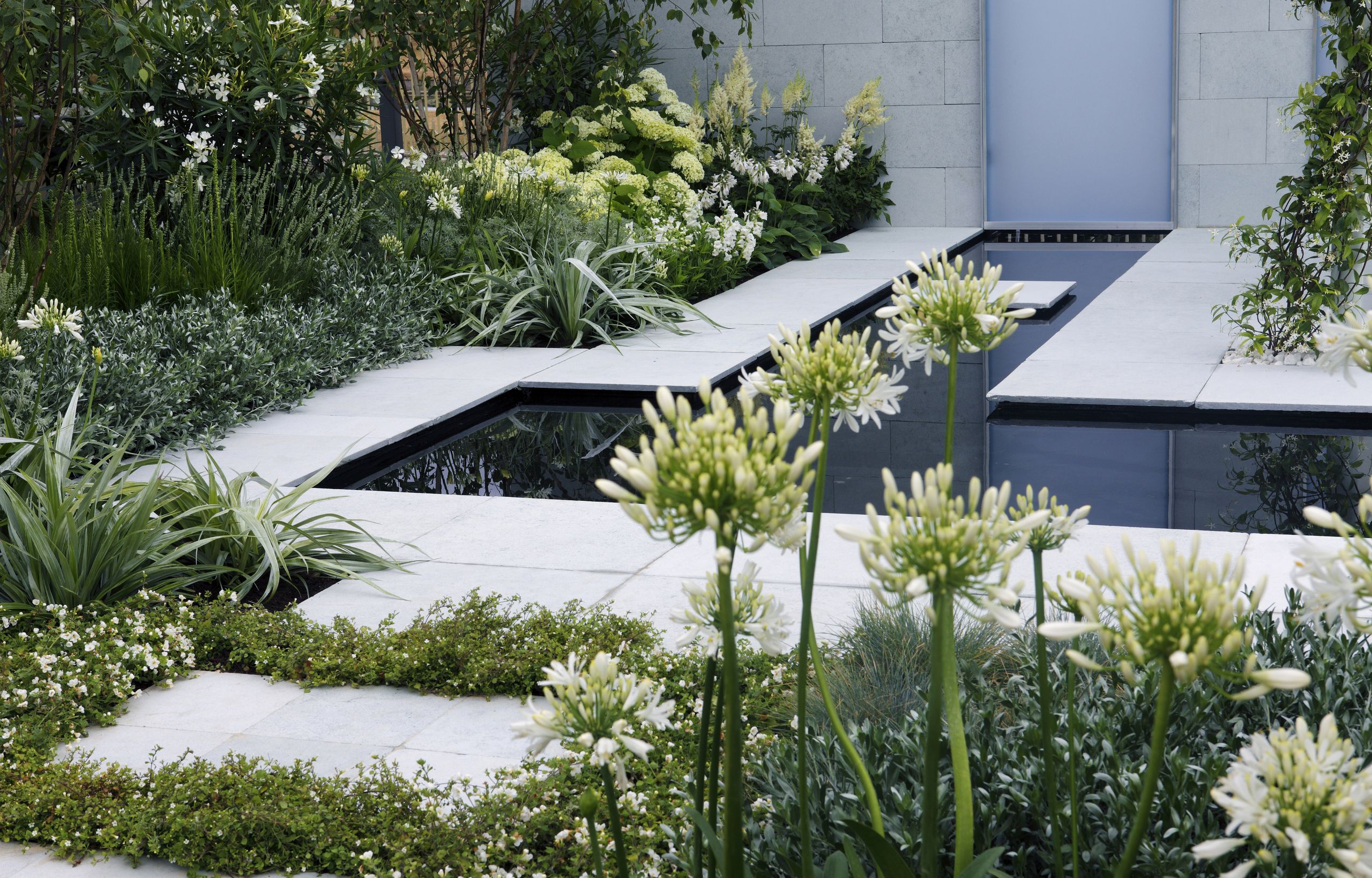 3. Use colour to visually enhance your garden
Light, cool-coloured paint shades will make a small space feel larger, whereas bright, hot colours and darker shades will have a dwarfing effect. The same applies with plants. Pale pink, soft blue and primrose yellow flowers recede into the distance, so position on garden boundaries to evoke depth. Bold blooms and foliage in sunshine yellow and bright orange act in the opposite way, drawing attention. They will have a foreshortening effect on boundaries, so make them centre-focus instead. White acts in the same way by drawing the eye, particularly at night, so position carefully.
4. Include a mirror
Large mirrors on walls, perhaps covering one side completely, can visually double the size of an awkward or irregularly shaped space. Importantly, make sure that the reflection doesn't show the bin store or an unattractive collection of drainpipes. Instead, angle mirrors slightly away from the house or main viewing point by fixing a thicker timber batten down one side so that the mirror reflects more visually pleasing plants.
Always try to hide the mirror's edges to further enhance the illusion. Close-knit trelliswork fixed tight to the wall around the outside of the mirror works well — for uniformity, perhaps cover the rest of the wall with it, too. Alternatively, train climbers up to do this job; but you will have to wait a while for them to grow to a suitable size. For safety, acrylic mirrors are preferable to glass.
5. Hide boundaries
In basement gardens, boxy new-build plots and short, sloped gardens – notably those slanted towards the house – boundaries can really draw attention to the limited size of a garden. Packing boundaries with plants works on the principle that if you can't see them, then you can't tell how big the garden actually is.
Free-climbers, such as common and Boston ivy, and climbing hydrangeas have good covering power and tolerate shady walls and fences. Depending on the style or theme, partner them with tall-but-thin clump-forming bamboo, such as umbrella or Chilean, as both bring height but take up little width. Unlike fat shrubs, it's possible to plant shade-tolerant ferns and perennials underneath, too. In warm, sheltered gardens, Musa basjoo bananas, tree ferns and the Chusan palm are good and won't grow to giant proportions. For instant impact, buy big specimen plants if your budget will stretch.
6. Borrow scenery
Nothing makes a garden feel bigger than embracing a fine view beyond. Use similar colours, shapes and plants to claim the wider landscape for yourself. Likewise, don't prune back plants that spill over from a neighbour's garden, especially trees. Instead, consider merging them into your own design, perhaps by repeating similar specimens elsewhere. Again, the garden will feel much bigger because the boundaries have been blurred.
7. Use varied textures
Like colour, texture can create the illusion of depth and distance. Fine-textured plants, such as many small-leaved shrubs and ornamental grasses, fade into the background, whereas bold-leaved plants, such as banana or ornamental rhubarb, draw the eye. Position fine leaves in the background and coarse ones in front, to create the impression that the space is deeper than it actually is. This trick works particularly well in shallow, sloping gardens.
8. Reflect the light
A gloomy space will always feel less claustrophobic if natural light is reflected into it. In tiny, enclosed areas, light-coloured paint isn't the only option for brigtening things up — surfaces that reflect light, such as sparkly granite and quartzite, are more appropriate than dark blue-black slate or limestone. Polished steel pots and plants with glossy foliage, such as the Japanese aralia and hart's tongue fern, will also help bring in a little light. Glass tables and balustrades are reflective, too, and being translucent, don't take up much room visually.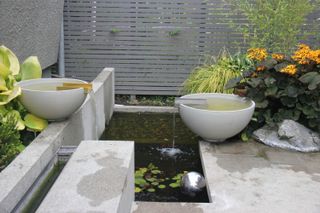 9. Use a mix of levels
A simple change of level adds interest to any design, but introducing more vertical planes will also make a garden feel bigger. One step is relatively easy to introduce, especially with decking; however the riser (the vertical face) should never be taller than 20cm — 14–16cm is ideal. If you're planning for more than one step, the tread should be no smaller than 30cm, but ideally no deeper than 50cm.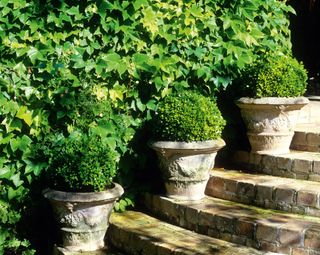 10. Create separate areas
Dividing a garden – regardless of its shape – into a series of rooms using planting, wooden trellis or freestanding walls will help to hide what's on the other side of them. This obscures the actual size of the space, making the whole area feel much larger. If the garden isn't all revealed at once, this creates a strong sense of anticipation, too — piquing curiosity about what lies beyond.
11. Play with perspective
A classic design trick to make a small garden feel bigger is to play with the perspective, essentially deceiving the eye into viewing the space differently. With long, narrow gardens, try to lead the eye across the space instead of allowing it to travel straight to the end. This will help to make the garden feel wider and more spacious. Using an angular design, set at around 30 or 45 degrees, works well. Alternatively, alter the orientation of the paving, or position the main focal point closer, or just off to one side.
Gardens that are wider than they are long can be tackled in exactly the same way, so try to pull the eye across the space rather than allowing it to simply focus on the back boundary. This trick is particularly effective with short-but-wide gardens that slope down to the home where the rear boundary is all too obvious and may well appear to 'loom' overhead. Also, position larger elements – plants, boulders and pots, for example – in the foreground, with smaller ones in the background. As the distance between them appears longer, this creates an illusion of depth.
Read more: